How Do Nike Dunks Fit - An Easy to Follow Guide!
Shaba
Nike dunks are becoming overly popular and with the many drops coming up, such as the Nike Dunk "Pandas" and the brown Nike Dunk "mochas", it's in your best interest to figure out what size you need.
The worst feeling is getting ready for the drop to happen and you panic to figure out what size you need. This guide will give you a complete understanding of all you need to know about how to pick the right size!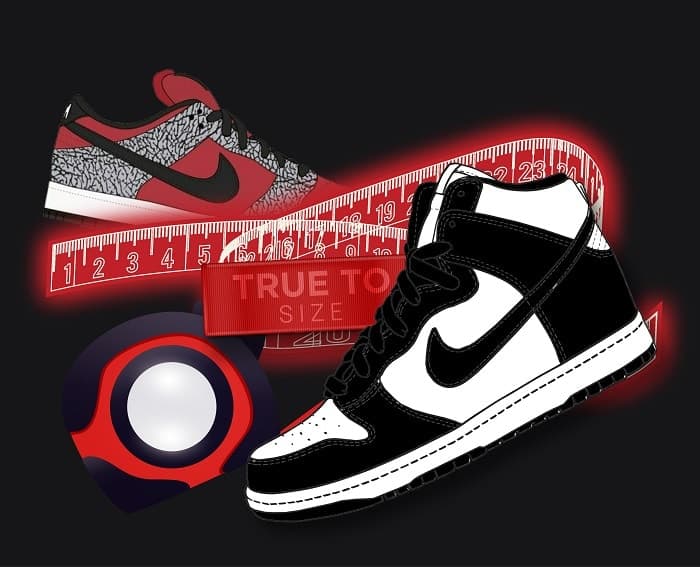 How Do Nike Dunks Fit?
You may or may not be aware that there are actually two different styles of Nike Dunks. You have the OG style, which are shoes such as your Nike Dunk "Panda", and you have the Nike SB Dunk, such as the Orange lobster. We will go over how each of these fit but lets start with the OG style!
How do they fit?
When you are purchasing Nike Dunks, you want to get them true to size. The Dunks typically have a little bit more room than your average shoes and this is an even bigger positive for those with wider feet. If you have a slimmer/narrow foot then it might not be a bad idea to get half a size down. If the Dunk is a little snug when you first get them then they will stretch a little over time, but do not expect them to stretch a ton. Another thing to also be mindful of is the amount of room you have at the toe box. You will find that the toe box is a little bit larger than your average kicks, which is a blessing for wider feet individuals.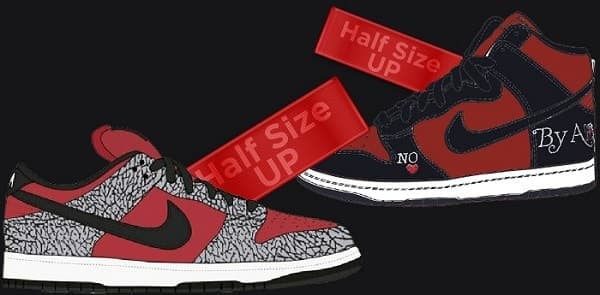 How Do Nike SB Dunks Fit?
Both the OG Nike Dunks and the Nike SB dunks are overly popular. The OG Nike Dunks were originally shoes that people used for playing basketball, but over time the uses for these shoes started to extend outside of basketball. People in many different sports began to wear them, but the main group outside to wear them was people in the skateboarding community. Nike took advantage of this and recreated a new version of the Dunks to give skateboarders an even better feel for the extremely durable Nike Dunks. This is how the Nike SB Dunk was created in 2002. Some of the efforts Nike did to appeal more to the skateboarding community was to release colorways that skateboarders found appealing and added extra padding on the tongue, forefoot as well as on heels. Since Nike gave the skateboarding community the attention it deserved, it became extremely popular.
How do they fit?
These shoes are much different than the OG dunks because of the extra padding. While wearing the OG pairs, you may find you have a little bit more wiggle room but these ones will fit a little bit more snugly. This is why you should order a size and a half up for the Nike SB Dunks or they may be a bit too tight.
Do you want to learn more?
The sneaker game is always changing between different ways to increase your chances of having success along with many different colorways coming up. If you feel overwhelmed then make sure you check out our other BLOGS to keep you informed!
Are you tired of taking Ls drop after drop? Then checkout our sneaker bot rentals to ensure you can increase your chances with sneaker bots for Nike, Shopify, Footsites, and much more!
Check out our sneaker bots you can rent for as little as $5 a day!
Check us out: https://www.tidalmarket.com/bots