Kodai AIO - All You Need to Know About The Bot
Shaba
Kodai AIO (All in One) was initially released in September 2018 and since its initial release, it has been widely accepted as the best bot available on the whole market. Yes, you heard us right: Kodai AIO is widely regarded as the best bot available at this point in time. The simple reason why Kodai AIO is regarded as the best is because of the very high success rate that the bot is associated with. As you will see, there is no clear disadvantage to Kodai AIO in terms of performance; it is a true AIO because of the fact that it excels in every way. Most bots that are considered good excel in one area but simply can't cope in other areas, however, this is not the case with Kodai AIO. Kodai AIO is a very well-rounded bot that seems to have no downsides to it, except the price. The bot resales for a price of around $4000. This is the price you will have to pay if you require the best bot available on the market. As a result of the almost incomprehensible price, Kodai AIO should only be purchased by those who have already established themselves in the botting world. Kodai AIO can't be considered a good bot for a beginner to start with as it just doesn't make sense for a beginner to invest that much money into a bot for their first bot. The botting world is not for everyone, and we would recommend starting off with a bot that is available for cheaper. If you feel that you are suited to the botting world, you can make the leap to buying Kodai AIO.
Support
Kodai AIO is regarded as an all-in-one bit because of the fact that bit supports a wide variety of sites. Kodai AIO supports Shopify stores (right now, there are over 1 million businesses who use Shopify for their sites which means that Kodai AIO supports a very large range of websites), EU foot-sites, Finishline, JD Sports, US foot-sites, Supreme, Adidas and Yeezy Supply too. As you can see, Kodai AIO is mainly focused on sneakers but the inclusion of support for Shopify stores means you can bot many, many different items. Right now, the sneaker market is growing at a rate that makes it seem as if it will never stop; the most profitable items to bot are sneakers right now and thus, most bots choose to focus on just sneakers. However, Kodai AIO also supports Shopify stores which sets them apart from the rest of the bots on the market.
Kodai AIO also supports foot sites from both the US and EU. This makes the bot suitable for botters residing anywhere in Europe, the UK, or the US. JD Sports is also supported by Kodai AIO and as you probably know, JD Sports is always expanding its operations and thus even if JD Sports doesn't deliver to your country as of yet, you can be sure that they will soon. Kodai AIO also supports Supreme; this is something that we don't usually see when it comes to bots. Most bots choose to focus on either sneakers or clothing brands like Supreme but Kodai AIO, being the true AIO that it is, supports both – it really is the best of both worlds. When it comes to the clothing world, Supreme is one of the most hyped companies and always comes with high resell prices. Therefore, if you are a sneaker botter who is looking to expand operations, Kodai AIO gives you the chance to do this. Kodai AIO also supports both Adidas and Yeezy Supply. As we all know, Yeezys always end up doing well on the secondary market, even though the designs are often questionable. The fact that Kodai AIO also supports the botting of Yeezys is simply a testament to the all in one capabilities of this bot.
User Interface
Kodai AIO comes with a User Interface that does a good job of setting this bot apart from the other bots that are available on the market. When it comes to successful botting, a slight improvement in the user interface could lead to a much higher rate of success in terms of copping sneakers (or whatever you are trying to bot). The simple, clean, easy to navigate user interface of Kodai AIO makes all the difference when it comes to checkout time. The User interface of Kodai AIO is so good that we would recommend it to beginners who are starting out however, the steep price of Kodai AIO doesn't make it a viable option for those who are making their way in the botting world. Many users preach that the interface of Kodai AIO makes it easy for them to succeed on release day and we would concur with that. All users of Kodai AIO are given a complimentary user dashboard where they can view upcoming releases and personalised analytics. The release calendar is constantly updated by the developers behind Kodai AIO, and it makes it extremely easy for users of the bot to access information about the upcoming releases of sneakers. Kodai AIO also provides the 'personalised analytics' which give the user concise, easy to access information about their checkout times and the number of successful checkouts to name a few. The User Interface simply adds to the appeal of this bot and doesn't weigh down its spectacular performance in any way, shape, or form.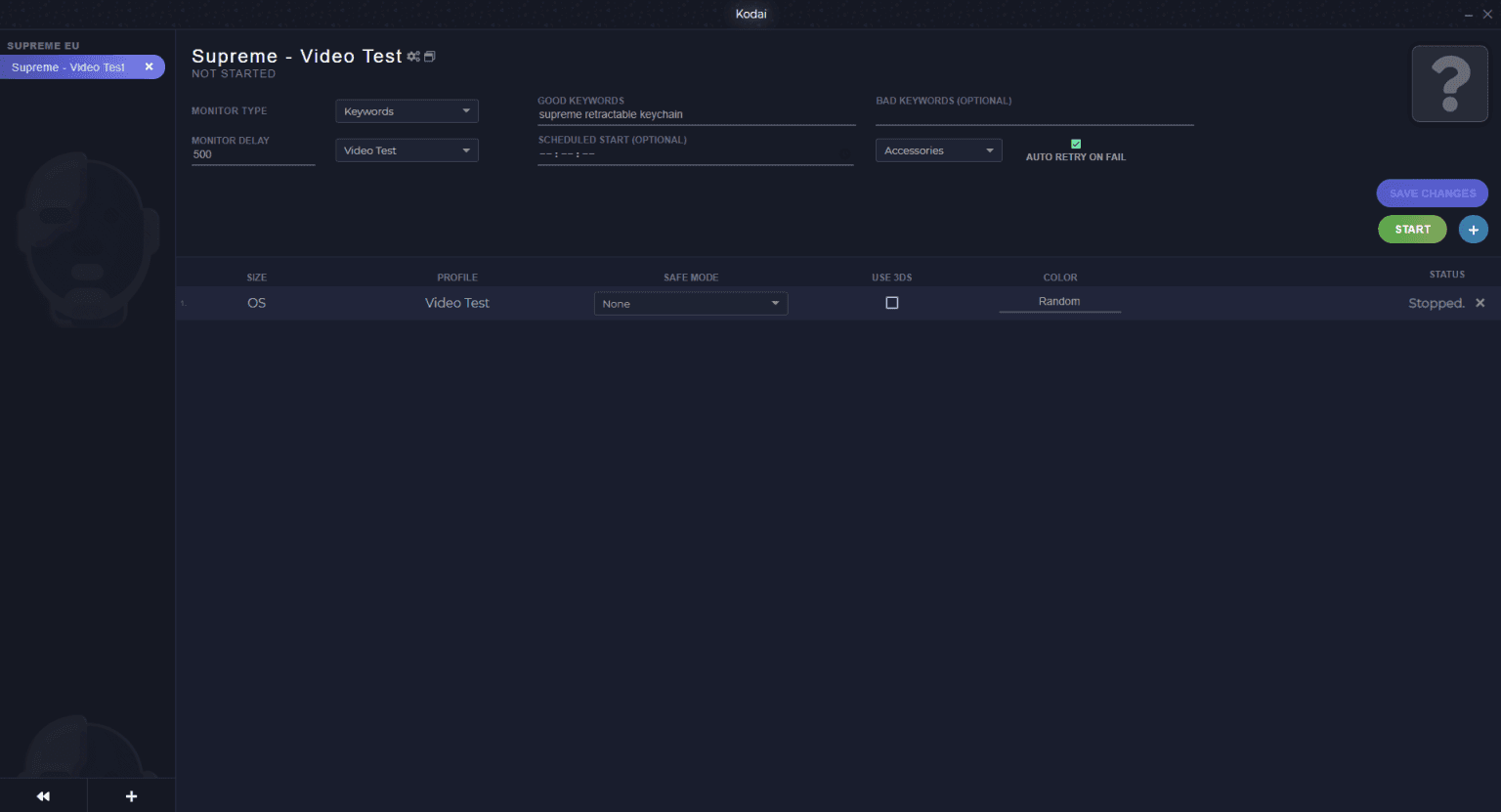 The releases window of Kodai AIO also allows you to add your own releases; the benefit of this is that you can condense and get all your information about releases into one window that can be accessed easily whenever you are using your bot. Another thing that adds to the premise of Kodai AIO is the fact that it is cross platform. Kodai AIO works on both Windows and Mac platforms – this is another feature that distinguishes this bot from the heap of bots that are released every year. Most bots choose to limit themselves by only supporting Windows as an operating system but the developers behind Kodai AIO have recognised that many of their users would prefer to use the Mac operating system. As of now, Kodai AIO doesn't support Linux or any other operating systems that may be available. If you are one of the users that chooses to use an operating system that is not MacOS or Windows, Kodai AIO may not be the best option for you. Another thing that adds to the appeal of Kodai AIO is the frequent updates that are released by the developers behind the bot. As anyone who has used bots before or has experience of the sneaker world would know, sites are constantly innovating and changing their securities to prevent the number of sneakers or items that are botted. It is these innovating methods to prevent bots that call for the need for constant, quick updates. The new updates released by Kodai AIO are efficient at finding ways around the anti botting securities of websites like footlocker, JD Sports, and many others. The fact that the developers behind Kodai AIO are constantly pushing updates is a testament to their constant hard work.
Tasks and Profiles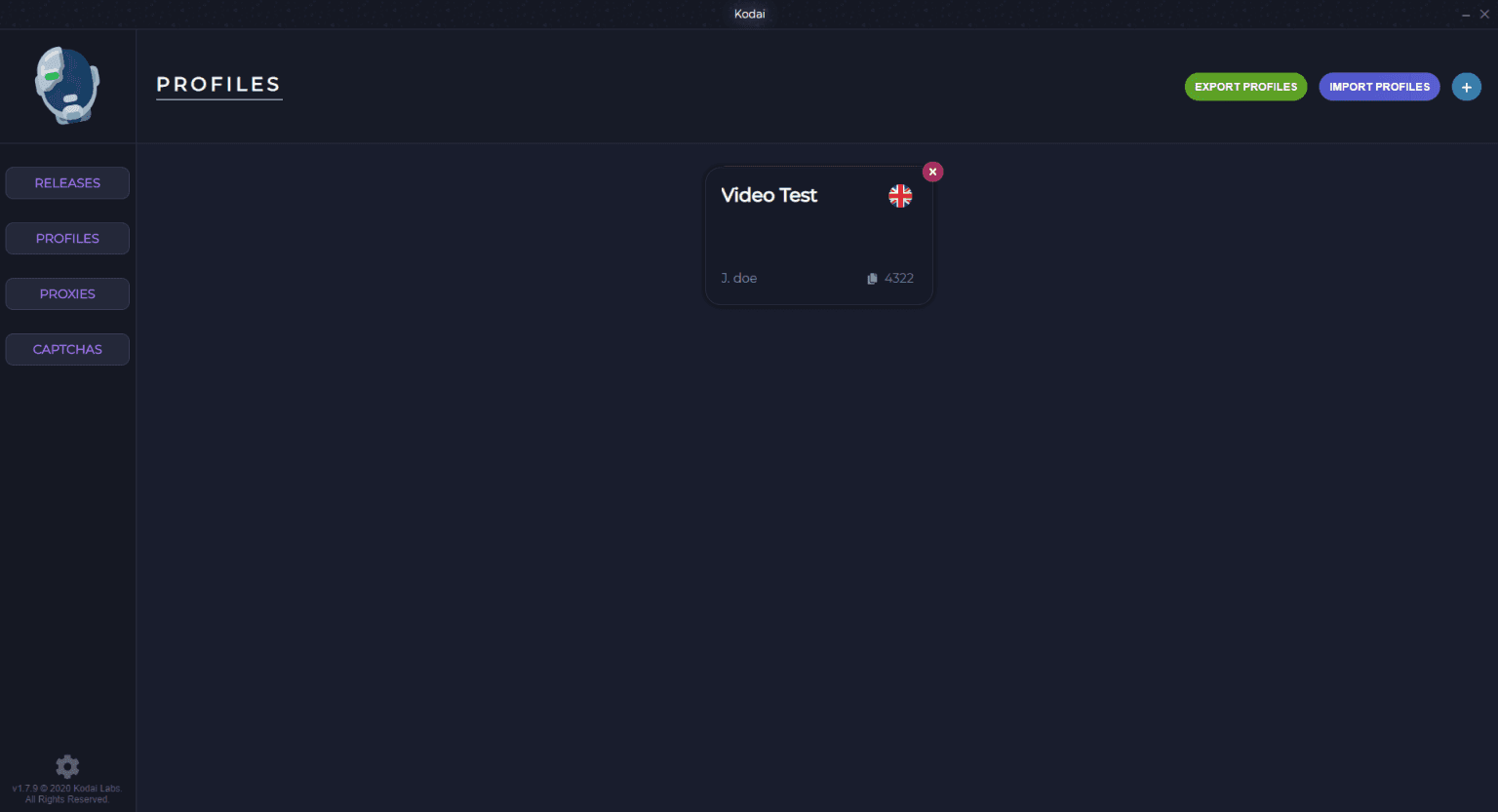 The process of creating tasks on Kodai AIO is made quite simple too and can be done through the releases window of the bot. Kodai AIO has a page that is dedicated to Profiles on their own; on this page, you can create profiles that can be used hand in hand with the tasks that you have created. The process of creating profiles on Kodai AIO is simple and easy to do – simply add in an email, name and an address and you should be good to go. If you have previous experience in the field, you may already have profiles created. Kodai AIO provides you with the option to import profiles into the bot. This aspect of the bot is especially useful, especially if you choose to rent the bot for a certain number of times. If you rent bots regularly, such as for certain releases, you can choose to export profiles out of Kodai AIO too if you don't like the feel of the bot and think that another one would be better for you. Once profiles have been created, all the profiles that have been created by you will appear in mini squares with a few key details that allow you to distinguish between different profiles.
Proxies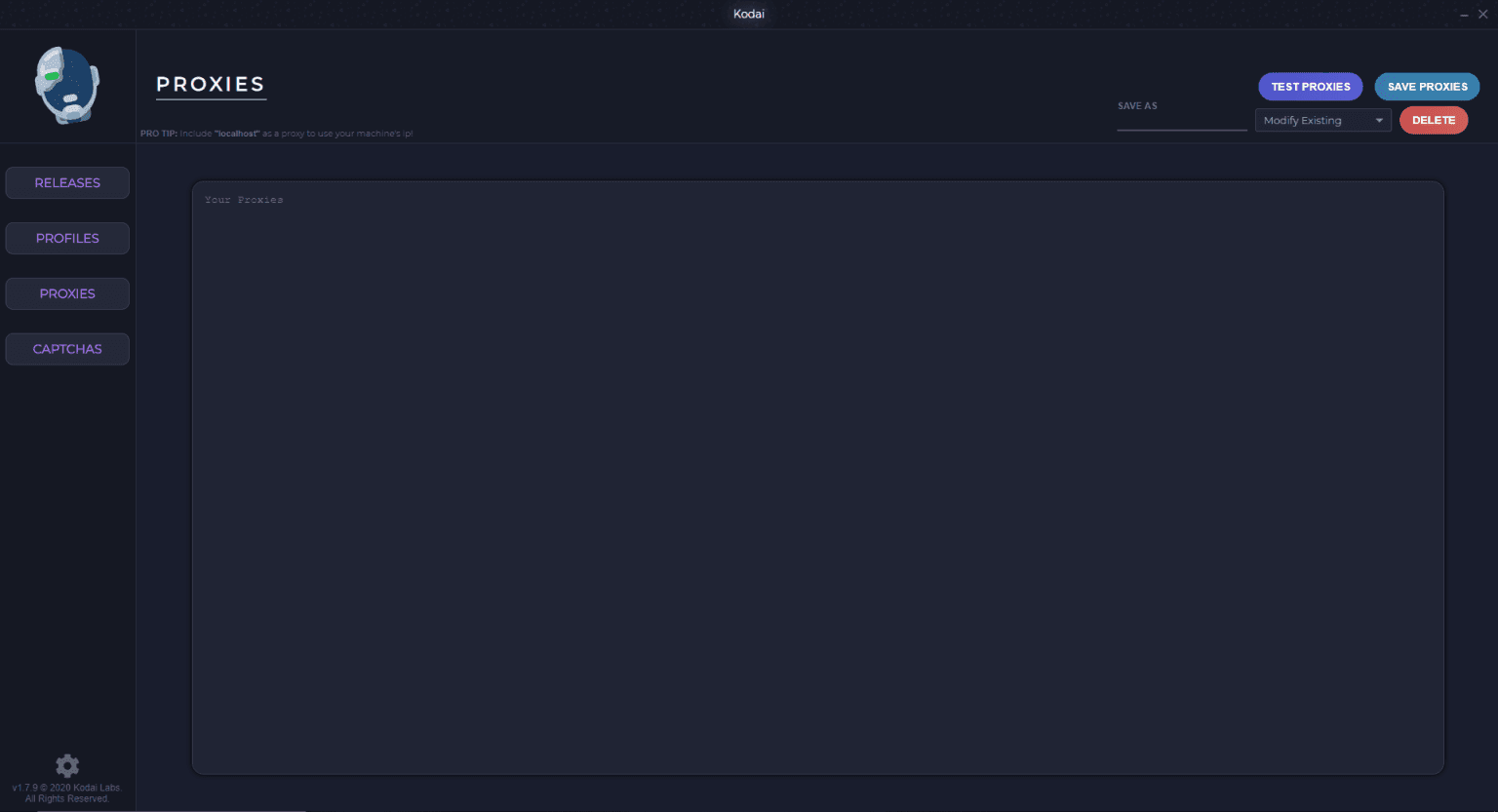 In this day and age where every sneaker buyer seems to have an advantage over the other, proxies are almost a must. Proxies help the tasks you have created with the bot reach the actual checkout without being blocked out by the anti botting security of the sites. The fact that Kodai AIO has a page dedicated to proxies is a great help; from this page, you can inject proxies into the bot and can assign different proxies to different tasks. Once you have injected the proxies you want to, you can test them easily from the proxies page of the bot. You can also save many proxies together under what is called a 'proxy group' and test them all together if you wish. Furthermore, you can also delete proxies individually or you can delete proxy groups to get rid of many proxies in one click.
Captcha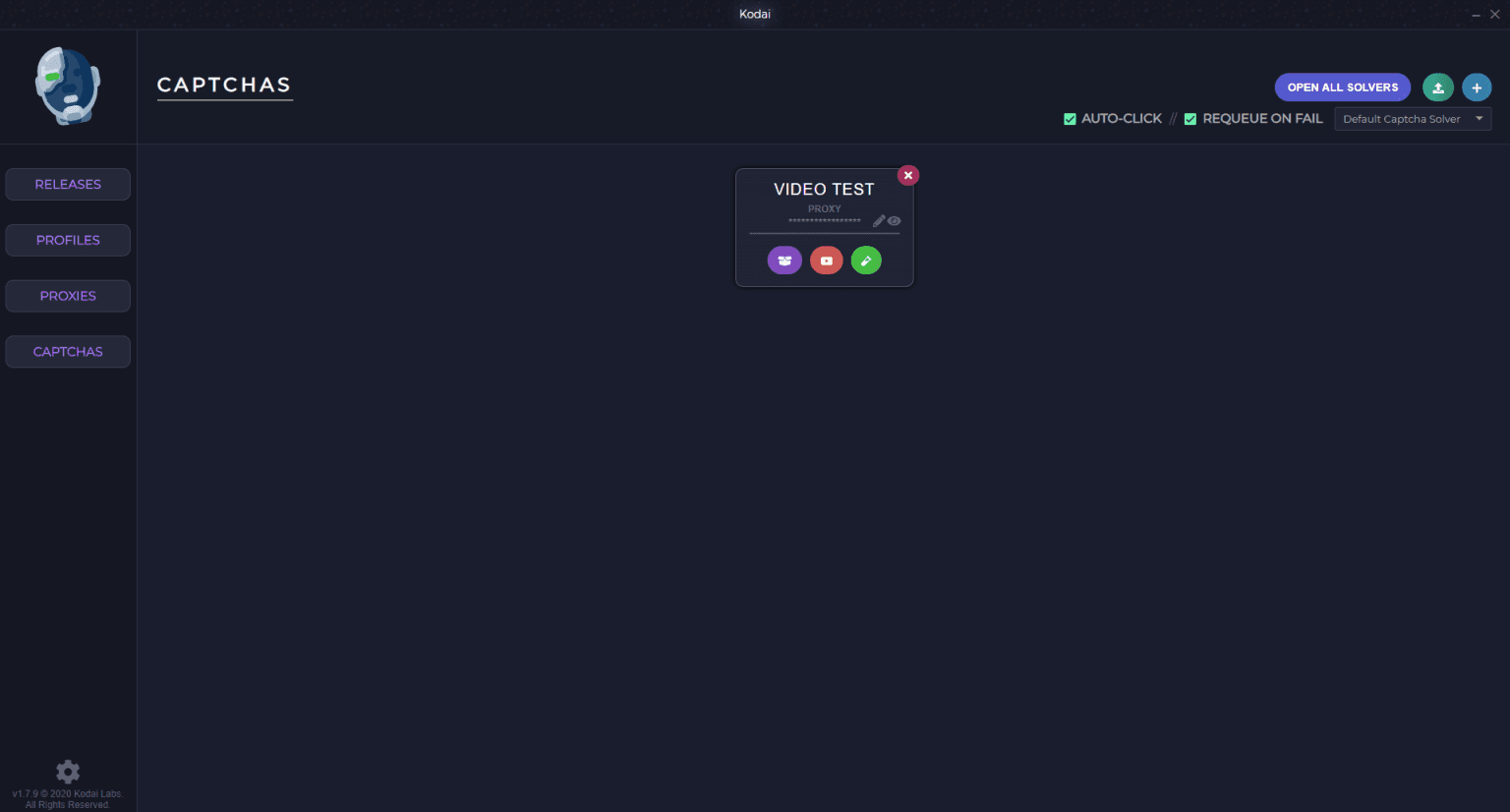 Many sites are now employing Captcha's to prevent bots from being able to buy items at a checkout. Most bots are flustered when encountered with a human verification tab, but this is not the case with Kodai AIO. You can very easily add in a third-party captcha solver – many companies are simply making captcha solvers to go hand in hand with bots – that can help you solve the problem of Captchas. However, if you don't want to fork over another sum of cash for a captcha solver, Kodai AIO has the option by where you can create Captcha solvers yourself through the bot. Simply click the blue plus (+) button that is located at the top right of the page to start the process of creating your own captcha solver. Once this is done, you can test the captcha solvers and you can name them so you can distinguish them from each other. Most bots don't feature something like this, and this is another reason why Kodai AIO is considered one of the best bots available on the market.
Customer Support
The Kodai AIO website features a great section where Frequently Asked Questions (FAQs) are answered by the developers that are behind by this bot. If your question is not answered in these, you can always contact the developers themselves through Twitter or Discord. Furthermore, once you purchase the bot, you will receive guides on how to run and maintain the bot from the developers. Frankly, the FAQ section and the guides mean that you won't really need to contact the developers, but you can always do this if you have any burning questions.
Final Words
Overall, you can't do much better than Kodai AIO when it comes to bots in general – there really is nothing more that we can say. Kodai AIO is just a well-rounded bot that has no glaring faults; it supports a wide range of support, has a good user interface, and has good support behind it too. The only thing that lets the bot down is the secondary market price of the bot and to an extent, you can't really blame the developers behind the bot trying to sustain the hype around the bot (by releasing it in extremely limited quantities). Overall, Kodai AIO is one of the best bots available and we would recommend it to anyone that is looking to get an edge up on the competition.