The Best High End Sneaker Brands
Shaba
We all love our classic Nike, Adidas and Jordan sneakers but today I bring you a compilation of the best luxury sneakers for the times you want to dress up (you could argue that some versions of the Jordan are high end – especially when you have a look at the prices of certain Jordans), but this list is limited to sneakers designed by high-end fashion houses like Balenciaga, Prada and Dior.
Surprisingly, some of these sneakers are cheaper than the more hyped releases by brands like Jordan and Nike and in my opinion, some of them definitely look better. This list is all based on my opinion (as is with all the compilations & lists on the site), so please let me know if there are any luxury sneakers that you think I have missed off this list. This list is not in order, so please judge them yourself!
Louis Vuitton
So, to start off the list we have a sneaker by French fashion powerhouse, Louis Vuitton. I wanted to limit my choices to one sneaker per fashion house and this put me in a dilemma from the very start - it's just so hard to pick. Despite not being known for their shoes, Louis Vuitton has some great sneakers. Looking through the website, models like the 'RUN AWAY TRAINERS', 'LV TRAINERS', and 'BEVERLY HILLS TRAINERS' stand out to me however the one that appeals to me the most is the LV trainer. This sneaker was the first designed by fashion icon, Virgil Abloh, after he took over as creative director of menswear at Louis Vuitton. Looking at this sneaker, I see resemblances to models like the Jordan 3 – the silhouette's of the two look similar but the craftsmanship on the Louis Vuitton LV TRAINER is in a class of its own.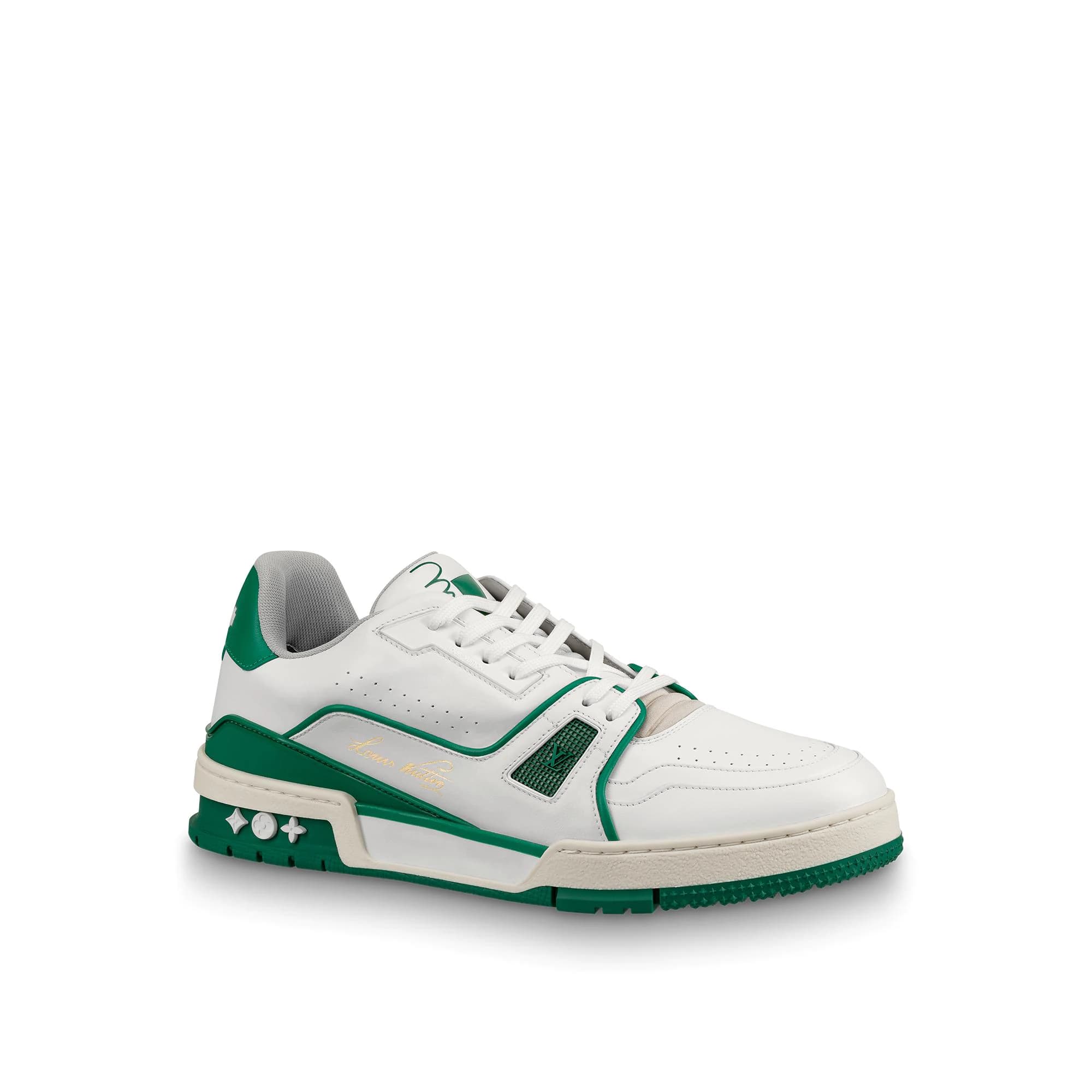 Each version and colourway of this sneaker is made of 106 components and takes six hours of stitching to assemble. This sneaker is assembled in Italy and the feel of these sneakers is just other worldly. When it was released, the Louis Vuitton LV TRAINER was a hit among streetwear fans and fans of luxury brands which is a testament to how great a shoe this really is. One note about the versions – the Louis Vuitton LV TRAINER came out in low top, mid top and high top versions. My favourite of the three is the low top version but pick the one you like the best if you're looking to buy a pair of these sneakers.
Dior
The next fashion house I explored was Dior – Dior is another French fashion house which has a rich history but I feel as if the revolution (in terms of their sneakers) came when Kim Jones took over as men's artistic director. The pair that really stood out to me when scrolling through Dior's website was the B23 High Top Oblique. One thing I will say is that I think Dior's silhouettes are weaker if you compare them to a brand like Louis Vuitton but I feel as if the colourways that Dior puts out are much, much better. This shoe was originally debuted at Paris Fashion Week during the Spring/Summer 2019 season and was an instant hit. I think the popularity and appeal of this sneaker comes from the iconic Dior monogram print that can be found on the shoe. From looking at the shoe, I can see resemblances to the iconic Converse Chuck Taylor but with a high end, luxury spin on the classic.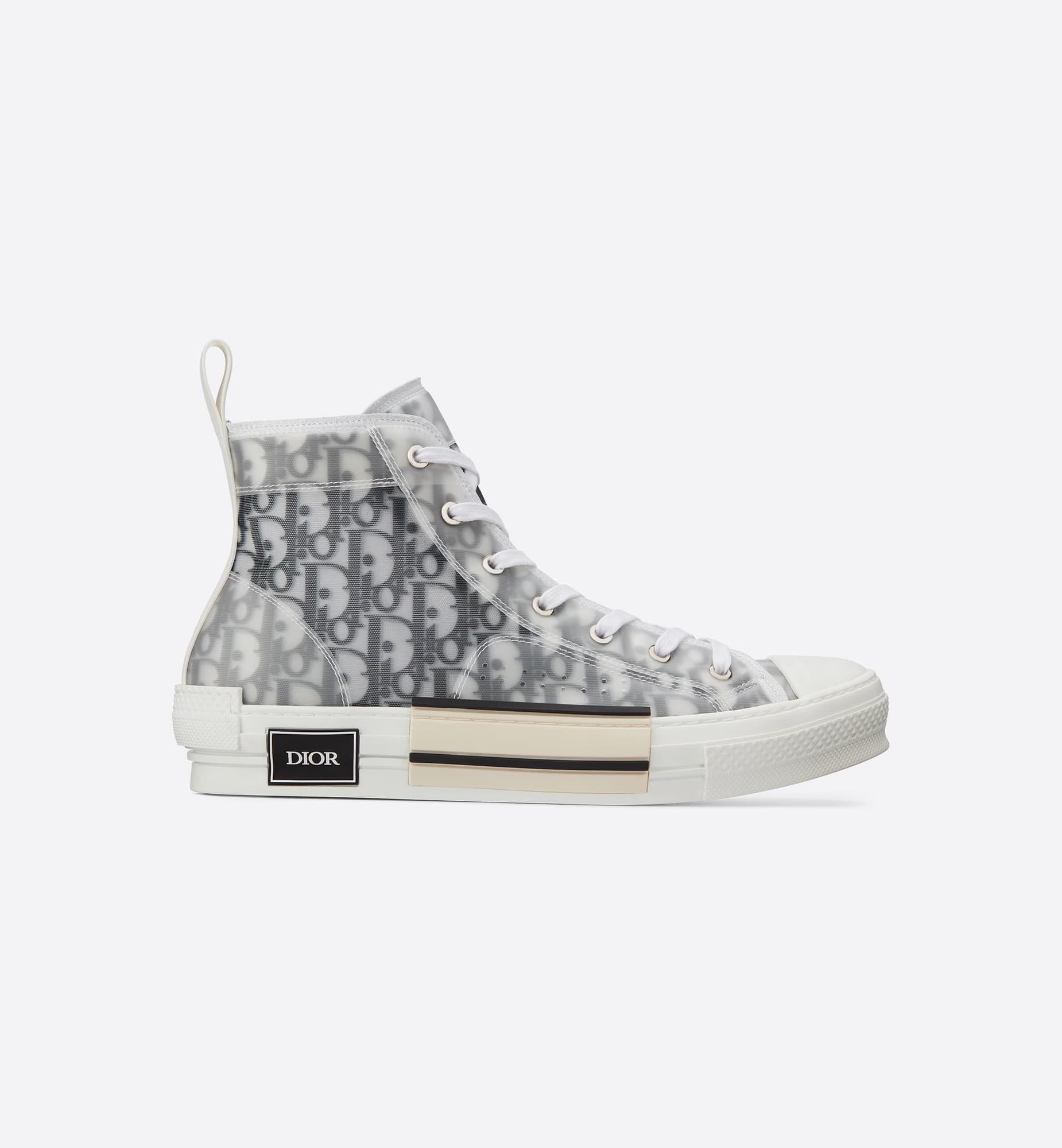 The transparent panelling on the side of the Dior B23 High-top is also great – it has been done before (transparent panelling) but I think (once again) that the great appearance of this shoe can be put down to the Dior print that is located inside the panelling. Moving onto one thing that I don't like that much about the Dior B23 High-Top; the inclusion of the off-white midsole. Now, I don't understand the point of this. Around the toe and the heel, we see a beautiful white midsole but when it reaches the middle, Kim Jones has suddenly decided to change e colour of the midsole to an off-white, creamy colour. I think the sneaker would have been that much better if the white midsole was continued all the way around the shoe. Still, the Dior B23 High-Top is a great looking sneaker – no doubt about it. This sneaker also has some great colourways – you can see it in the traditional 'White and Black Dior Oblique Canvas' colourway, the 'Black and White Dior Oblique Canvas' (where a black monogram dominates the shoe instead of the white seen on the original) or another one which is called the 'Blue Dior Oblique Pixel Canvas'.
If you're looking to buy a pair of these Diors, I suggest having a browse on their website because there are some exceptional colourways for the B23s. The shoe also comes in a low top and slip on version but I'd recommend sticking to the high top personally. One thing that you can do is customise these sneakers yourself – if you look on the Dior website, there is a 'customisation experience dedicated to the iconic BWE sneakers'. Using this service, you can personalise the laces of the shoes by adding 'charms' that come in a variety of different colours and styles. Now, this customisation service really didn't live up to my expectations – I was hoping to see that users could choose their own midsole and patterns for the shoe but no; all you can do is add a few 'charms' to the laces which frankly, don't look that great. All in all, the sneaker (priced at £850) is a great looking sneaker with some fantastic colourways – I'd definitely recommend it to anyone looking for a luxury sneaker.
Gucci
The next fashion house I decided to explore was another powerhouse – Gucci. Unlike the other two (so far), Gucci is an Italian luxury fashion house that was founded in 1921 by Guccio Gucci. It is currently based in Florence, Italy (compared to France where LV and Dior are located). Now, once again I scrolled through the Gucci website but nothing really appealed to me apart from the traditional Gucci Ace Sneaker.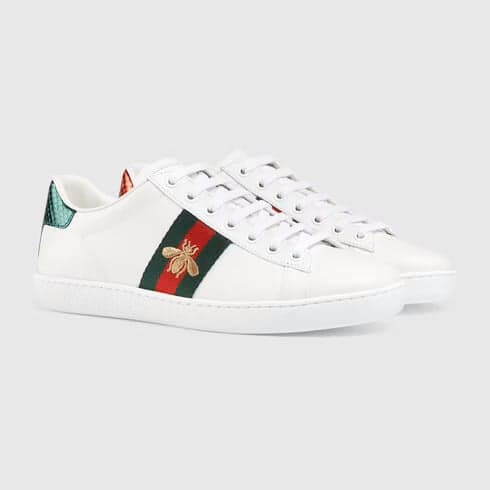 This is a shoe so iconic that I'm pretty sure most of us have seen it in some shape or form. As is a pattern with the high end brands, this shoe takes inspiration from another classic silhouette – in this case, it's the Adidas Stan Smith. Most high end brands (like the two above), take classic silhouettes like the Converse Chuck Taylor (Dior) or the Air Jordan 3 (Louis Vuitton) and put a spin on it. In this case, Gucci has taken the Adidas Stan Smith and added their own touch to it. Gucci describe these sneakers as being 'reminiscent of vintage shoes for the '70s, the Ace sneakers for me are reworked in a variety of colours and details, and defined by by the web stripe.' If you click the Ace Sneaker collection on the Gucci Website, you will get 23 results – most of these sneakers feature the 'web' that is made up of 3 colours that stay on both the external and internal part of the shoe. A couple of these sneakers don't feature this and I question why they are featured as part of this collection as Gucci itself says that the collection is deigned by the 'Web stripe' that is located on the side of the shoe. The ace sneaker has been described as a 'blank canvas' for a variety of designs and collaborations around this sneaker – the new motifs like the signature bee and snake designs have come to light after the appointment of Alessandro Michele as creative director of Gucci.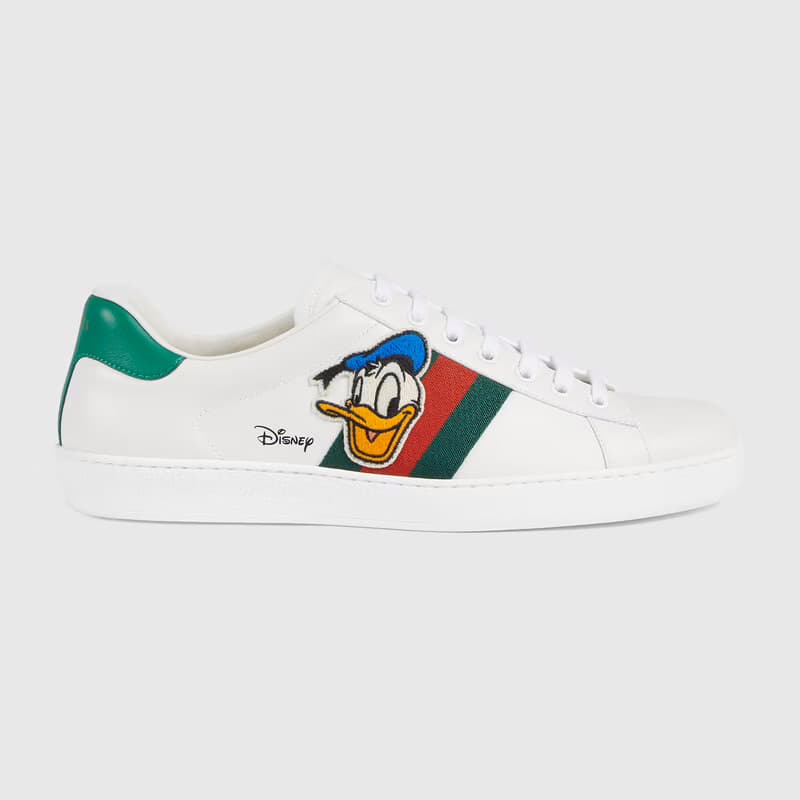 From this current collection, I particularly love the Donald Duck sneakers released by Gucci however, if you want to buy a pair, you could always stick to the classics.
Fendi
The next brand I explored was Fendi – this is another Italian fashion house that is known throughout the industry for its leather goods. It was founded in 1925 by Adele & Edoardo Fendi in Rome of Italy. Their current headquarters are located in the place it was founded which I think kind of reflects the circular nature of life – no matter how big and famous you get, you'll always return to your roots. As with the others, I headed over to the Fendi website and had a look author sneakers they had in their 'ready to wear' collection. Now, what I found was that most luxury brands have similar silhouettes (apart from fashion houses like Balenciaga which we will get to soon enough) – most brands stick to the running type silhouettes or the 'Stan smith' type low top sneaker with the monogram prints adorning the side.
The one that stood out to me most are simply known as colourway (the colourway that they come in) + 'low tops'. These remind me of the silhouette of the Air Max 270 and I was a big fan of those – these low tops come in a range of different materials like nylon, fabric, leather and suede. I think the best looking sneakers were definitely the ones made out of leather (as said before at the start of this paragraph, Fendi is famous for their leather goods so I was inclined towards their leather sneakers a little bit). Most of the leather sneakers consist of the 'Fendi Flow lettering' (basically the FF monogram print that is seen on most of Fendi's items), adjustable elasticated lettering and 'corrugated sole with incised F' (what this means is that the sole just has Fs everywhere which provide the grip compared to simple soles which have no lettering or pattern'. The side zip of this Fendi sneaker looks like it has taken inspiration from the zips that are seen on many of Giuseppe Zanotti's sneakers. The tongue of the Fendi Low Tops (I can't lie, this isn't a great name for a shoe – something that stands out and is memorable would be much better for the marketing of these sneakers).
The Fendi monogram also adorns the heel of all the Fendi Low tops as they are known and the insole of the shoe matches the contrast that is seen on the upper of the shoe. Overall, I think that this shoe by Fendi is great – they have a good looking design (that is 'magpied'' from the Nike Air Max 270) and some very good colourways. I particularly like the black and yellow ones as-well as the ones that are known as the 'multicoloured low tops'. All in all, the sneakers are great but I think Fendi came to a creative mind-blank when thinking of names and I think that the lousy, lazy marketing of the shoes have really let them down. I honestly believe that if these sneakers were marketed better, they would have outdone many of the other shoes on this list.
Balenciaga
The next fashion house on this list is one that most of you have probably heard of – it goes by the name of Balenciaga. Now unlike all the other fashion houses on this list (so far), Balenciaga comes from Spain (instead of France and Italy). Now, let's be honest – Spain isn't as popular as the likes of Italy and France when it comes to fashion but Balenciaga has exploded onto the scene. The brand was founded in 1919 by the designer Cristóbal Balenciaga in San Sebastián of Spain however unusually, the brand is not located in Spain anymore. Balenciaga deemed it necessary to move to Paris, France and set up their headquarters there and I understand why – France is just more of a fashion hub compared to San Sebastián of Spain. The designer himself (Cristóbal Balenciaga) had a reputation in Spain and surrounding countries of being a designer who left nothing unturned and went to great lengths to make sure that all his products were well made. Christian Dior (a very successful and accomplished designer in his own right) referred to Balenciaga as 'the master of us all'. Now, unlike the others, I think that most of Balenciaga's popularity (at least in and for this generation) came from their shoes and their iconic silhouettes like the Sock Runner and Triple S. I know that I said that I would limit myself to one sneaker per fashion house however for Balenciaga I can't choose one.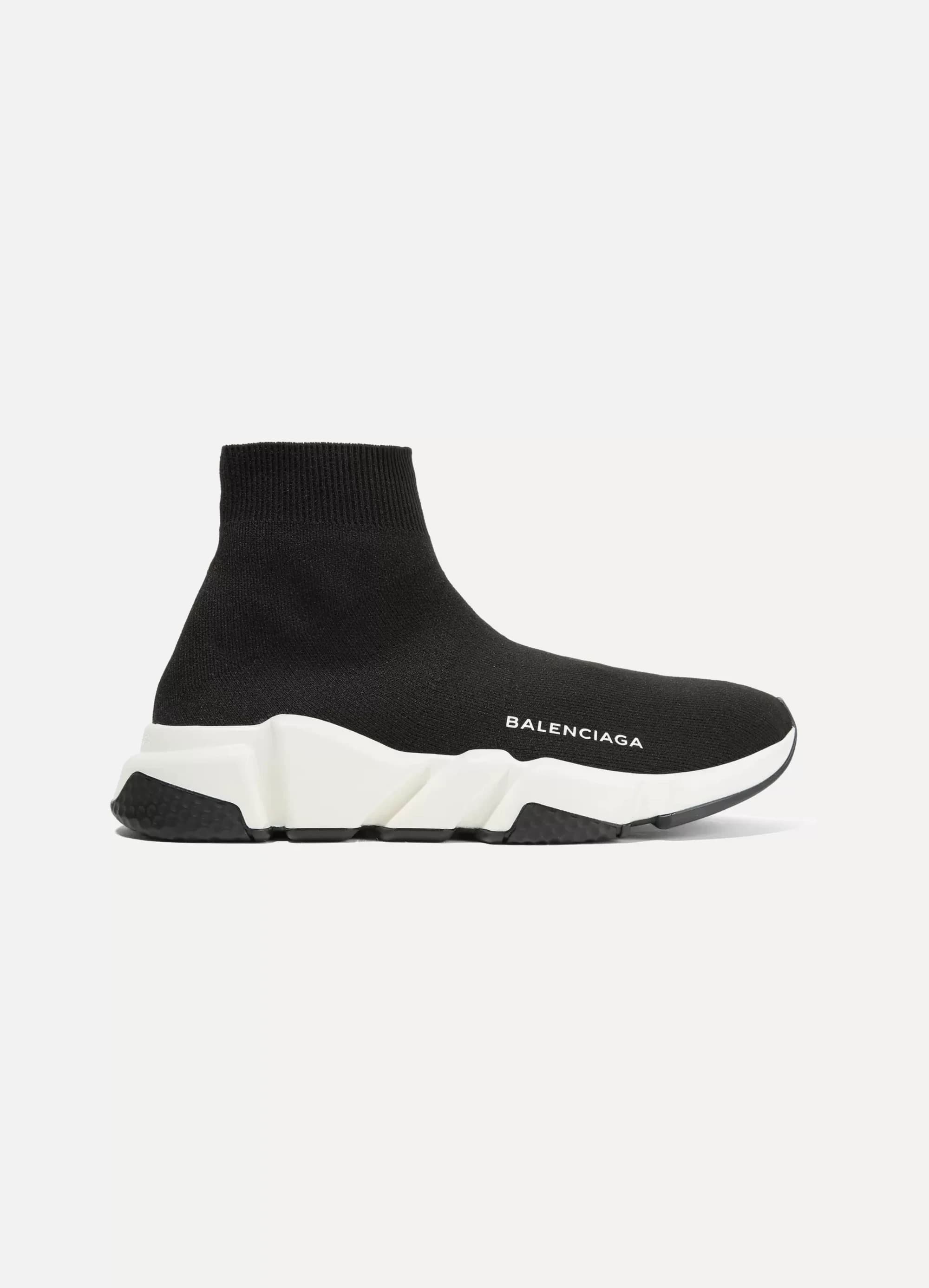 Therefore, I'm going to talk about both the Speed Runner and the Triple S (which is probably my favourite luxury sneaker). I remember when the Speed Runner (also known as the Sock Runner) released and how much of an instant hit it was – everyone seemed to be grabbing a pair and they were just the the 'thing' (like Jordans are the thing as of right now). I didn't grab a pair initially because I didn't want to be a bandwagon and just by the Balenciaga Speed Runners due to the hype that surrounded them however, I'm definitely considering buying a pair now. One of my friends who owns this shoe just constantly boasts about how comfortable it is – and the statistics back up his claims. The upper of the shoe is made from a knitted material and also fits like a sock – by this I mean that the Speed Runners grab and mould around your feet similar to the way a sock would (thus, giving them the name Sock Runners). Balenciaga describes the upper of this pair of shoes as 'Technical 3D Knit' – from this and consulting my friend who owns this shoe, I understand that the Speed Runners hug your foot and the knit is also very comfortable. Another feature of the Speed Runners that adds to their comfort is the sole – the sole of this shoe is 'ultra-flexible' and is extremely comfortable. My friend compares the sole of this shoe to the Boost available on many Adidas and Yeezy shoes. Balenciaga also says that the sole has 'no memory' technology- I understand that this is like memory foam (if you have a memory foam mattress you'll understand what I mean – no matter how hard you press down, the memory foam just rises up and back to it's original shape). So, basically, the sole of the shoe should not mould to your feet and should jot its original ergonomic design. The benefit of this will be that you get a new experience every time you put on the shoe and that it would maintain the original comfort of the Balenciaga Speed Runners (almost as if you are putting on a new pair everytime). However, (debatably) I think the single most contributing factor is weight when we talk about comfort.
Sometimes, weight is overlooked when talking about comfort but, trust me, wearing a light shoe is way more comfortable than wearing a heavy shoe. The comfort of wearing a light shoe is unmatched – sometimes, heavy shoes like a Timberland 6-inch boot are so uncomfortable to wear because it just seems you have to drag them across the floor. So here comes the big reveal – the Balenciaga Speed Runners weigh a minuscule 240g. This is basically nothing – an iPhone weighs around 160g so this is just 1.5 times that. If you put these shoes on after putting on a pair of Timberland boots, your feet will thank you (and me!). The minimalistic design of the Balenciaga Speed Runners is another key to their success – they don't feature too much branding so the shoes look classy in a way. The simple 'BALENCIAGA' features on the side of the shoe and an embossed logo is seen on the back of the shoe. I think that the simple and effective design of this shoe revolutionised shoe design in a way and I think that the Speed Runner opened peoples eyes to luxury brands instead of the typical Nike, Jordan and Yeezy.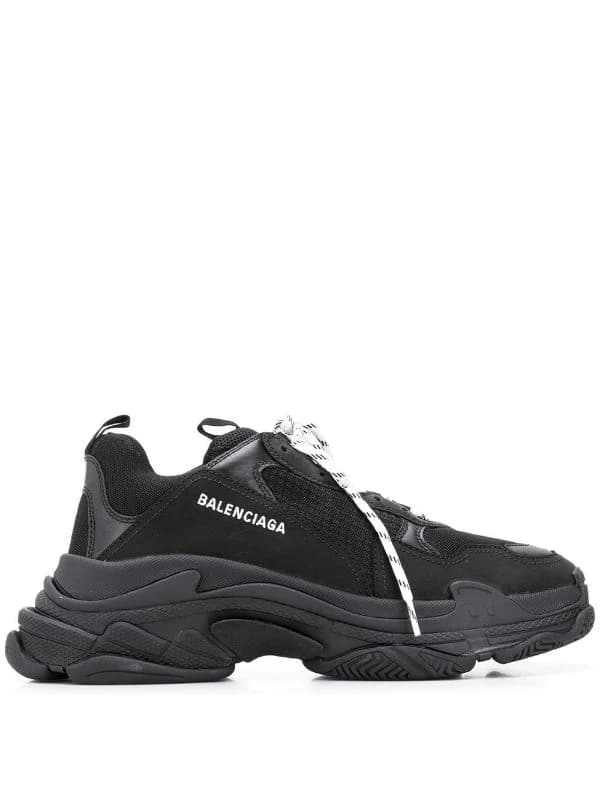 Continuing with Balenciaga, we have the Triple S. I'm slightly biased towards the Triple S because this was the shoe that really ignited my love for luxury sneakers and for Balenciaga as a brand. Just the look of them really captured my eye and I fell in love at first sight. The colourway of the Triple S that I will be talking about is the Triple S sneaker in black double foam and mesh however there are a range you could choose from – the colourways of the Triple S are refreshingly sober compared to other brands who I think just go too out there on certain occasions. The whole Triple S range doesn't feature by leather – I think this was in a bid to make sneaker production more sustainable and move to a new chapter by Balenciaga.
The Triple S wasn't as revolutionary or as hyped as the Speed Runners in my opinion but they were still a great looking shoe. The design of the Triple S is definitely in contrast to the minimalistic, held-back design of the Speed Runner – the Triple S featured a whole host of branding that lets onlookers know that you're wearing a Balenciaga shoe that is worth £695. The first thing you see is the embroidered Balenciaga that is located on the side of the shoe I. The typical Balenciaga branding. One thing that I have noticed about Balenciaga is that they steer away from the monogram prints (not to say they don't do that) compared to brands like Fendi and Dior. What you see next is something a bit odd – Balenciaga embroiders your size on the front of the shoe but in Europe sizing. So, if you wear a UK 9 or US 10, an embroidered 43 will feature at the front of the shoe (near the toe box area). The Triple S also features an embossed logo on the back (similar to the Speed Runners) and features 'Triple S branding' on the tongue of the shoe. Compared to the Speed Runner, the Balenciaga Triple S is almost loud but I wouldn't say they overdo it. Another thing that Balenciaga emphasises is the laces of the Triple S – they say that the lacing system is 'athletic' and features 12 fabric eyelets. As an onlooker, I don't understand how a lacing system can be athletic but oh well. Furthermore, the laces of the Triple S are reminiscent of 'hiking boots' laces' according to Balenciaga – I see the resemblance here. This is because of the bicolour laces that feature on the Triple S and most hiking boots.
Now, I will say that the branding of shoe is definitely noticeable but the thing you will notice first is the sheer size of the Triple S. it really is a big, chunky shoe. It looks almost imposing, like something you would expect Darth Vader to wear (I don't know where I got that thought from but it could definitely work). If you are thinking of buying these, I would definitely recommend going into a Balenciaga boutique and trying on the shoes first to see if you will still love them. Another thing that may shock you is the well worn look that the Balenciaga Triple S comes with – they almost look pre-worn when you first take them out of the box but I promise you, it's by design. Overall, the Balenciaga Triple S is a very good looking sneaker with a very good, original silhouette (another thing about Balenciaga is that they don't seem to copy the silhouettes from other brands like what you see from Louis Vuitton (copying the Jordan 3) and Fendi (clearly taking pointers from the Air Max 270)) but I feel as if the sheer size of the shoe can be a bit deceiving so I'd definitely try before I buy.
Alexander McQueen
The next fashion house on this list is Alexander McQueen – this house is another that doesn't fit into the typical French and Italian fashion houses. This one is a British fashion house but this one is much more recent compared to the older fashion houses that have a rich history like Gucci and Fendi. Alexander McQueen was a fashion designer and couturier who founded the Alexander McQueen label in 1992, which is much more recent than the others on list (most of which were founded in the 1920s). Alexander McQueen was a fashion designer at Givenchy for 6 years (1996 to 2001) but unfortunately, his death came on 11 February 2020. I would say that Alexander McQueen was not able to his fashion house rise to its full potential however, I am a strong believer that his legacy lives on in the marvellous designs that he put out during his life. Compared to other fashion houses and sneaker stores, Alexander McQueen doesn't have a lot of silhouettes – most of the sneakers (68 in total in the Men's sneaker range) are the oversized sneaker by Alexander McQueen. Lucky for me - this is the sneaker that I wanted to talk about anyway.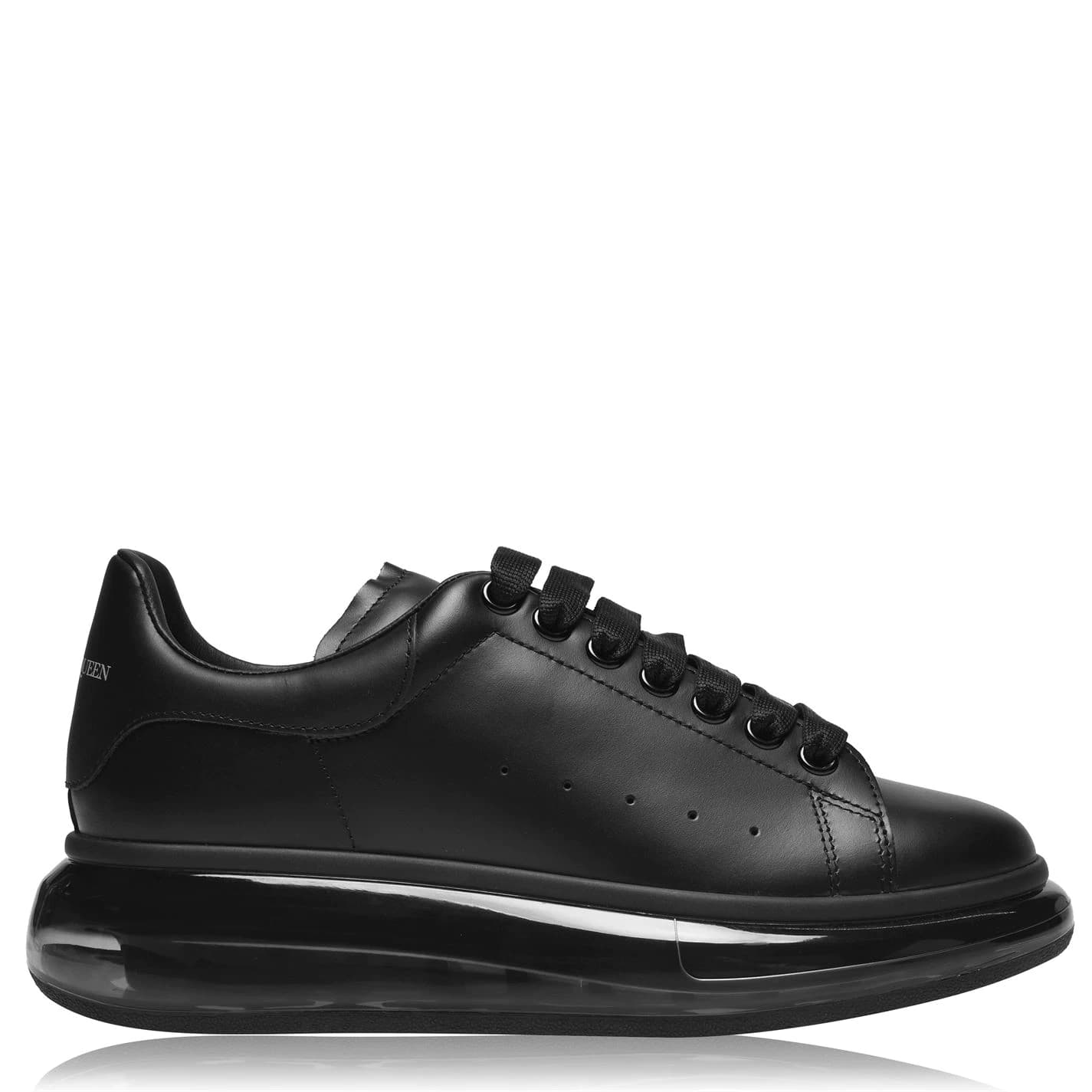 The oversized sneaker has a lot of different colourways, some of them much louder than the other. The oversized sneaker has a base of smooth calfskin leather of different colours; the Alexander McQueen oversized sneaker features large flat laces and an oversized rubber sole. I'd say that the oversized sneaker was revolutionary in the fact that it created a trend for 'big' shoes; it became fashionable to wear bigger shoes (and companies designed shoes that were bigger) and I'd put it down to this sneaker by Alexander McQueen. I think the popularity of this shoe stems from the simplicity of the shoe – a simple oversized sole and a simple leather upper (simple in the fact that it doesn't feature a ton of branding like some other shoes) creates a beautiful looking shoe. I can't say that the Alexander McQueen replicates any sneaker in its entirety but I'd say it takes pointers from different shoes but adds McQueen's touch to it. The only branding that is visible on the shoe is the Alexander McQueen signature on the tongue and heel of the shoe, and the sole features a signature stamp design which lets people behind you know that your wearing a pair of McQueen's. Another thing that makes these oversized McQueen's so popular is due to the fact that the colourways put out are just very good looking – it seems as if the creative minds at McQueen know how to style a sneaker and make it look good. None of the McQueen's look over done and they all look marvellous but I have to say I'm not a huge fan of the oversized sneakers that have transparent soles. I think that the transparent soles just kind of take away the thing that makes these shoes so popular. Additionally, the oversized sneaker isn't as expensive as other shoes on this list – most versions of it cost £420 to buy which is more affordable than others on this list. Furthermore, the Alexander McQueen oversized sneaker is also surprisingly comfortable.
Overall, I think that the Alexander McQueen oversized sneaker is a great looking sneaker that has an iconic silhouette – the high quality of materials used paired with the iconic colourways makes the perfect shoe.
Christian Louboutin
The next fashion on this list is a fashion house that is known for its shoes – Christian Louboutin. When it comes to shoes, Christian Louboutin is arguably the most iconic brand of them all. Most of what they produce is shoes, unlike most of the brands on here – for example, Louis Vuitton and Fendi are much better known for their leather goods and handbags compared to their shoes. No brand on here can match the impact that Christian Louboutin as a brand and as a designer has had on the luxury shoe game. I can almost say for certain that 99% of celebrities we look at and admire own a pair of Christian Louboutins - they're just so iconic. Now, about the man himself - Christian Louboutin is a French-Egyptian fashion designer whose 'high-end footwear incorporates shiny, red-lacquered soles that have become his signature'. Just thinking about this – the inclusion of the red soles (or red bottoms as they are known in many hip hop songs) was a masterstroke by Christian Louboutin. Most sneakerheads will instantly associate red bottoms with Christian Louboutin sneakers, similar to how most people would say associate up with down. The fact that the 'red bottoms' belong to Christian Louboutin sneakers was a great invention – most of his shoes don't feature much or any branding. They are just recognisable with the red soles – it is such a flex to have a shoe that has minimal branding but the red soles let everyone know that the sneakers on your feet are £600 and above. Christian Louboutin (the designer) initially worked as a freelance designer for fashion houses but the revolution came when he started his own shoe salon in Paris (as you can probably see by now, most fashion houses gravitate towards Paris for their headquarters or flagship stores; this is because France is just a fashion hub and has been a place for creative minds since the cultural renaissance that took place many centuries ago).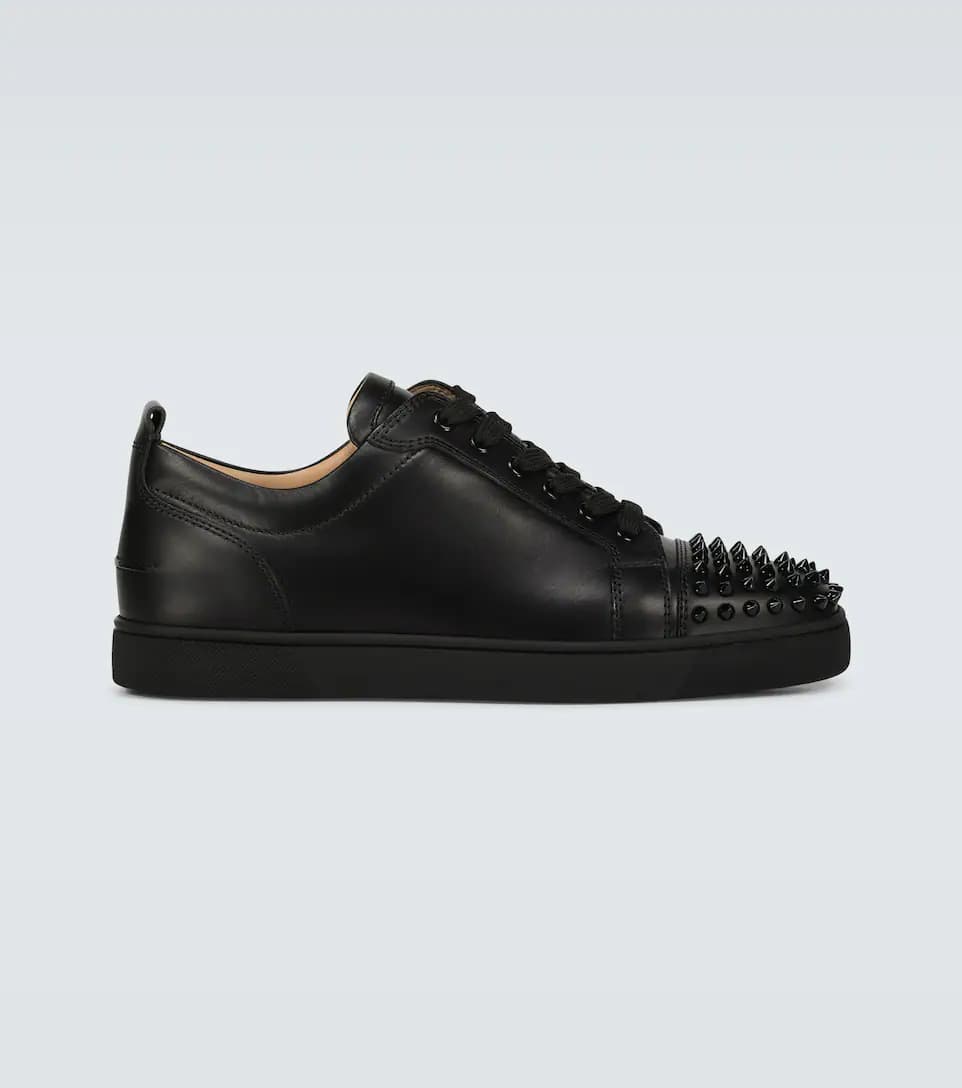 Christian Louboutin is a man that is mostly known for his stilettos (a type of women's shoe) but the sneaker I will be talking about is equally iconic. I'll be talking about the classic – they are known as the Louis Junior Spikes but let me tell you, there is nothing small (junior!) about these shoes. The Christian Louboutin website describes the Louis Junior Spikes as a 'core design in the Christian Louboutin sneaker edit and I'm inclined to agree with them' – these shoes are almost a staple of Christian Louboutin's design and are one of the reasons that he is so popular. I think there are multiple reasons that Christian Louboutin and his shoes (in this case, his sneakers) are so popular – one of them could be due to the sheer flex that these sneakers are. To wear a shoe that contains some spikes and no apparent branding on the upper is almost absurd – but I think that the almost sober branding of the Christian Louboutin sneakers is so refreshing in an age where everyone wants to show off exactly what brand they are wearing by stamping it all across them. The design of the Louis Junior Spikes is also very clean - it's simple, classic and elegant compared to other shoes which try to grab your attention and say 'Look at me! I'm £1200': I think that the Louis Junior Spike sneaker just doesn't do this, and only people who know shoes will realise that the wearer paid £675 for them. In an era of constant advertisement and in an age where everything is shoved in your face, the subtle design of the Christian Louboutin Louis Junior Spike (in the black-black colourway) is something new and unique.
Now, just to point out the fact that I'm talking about the Black-black colourway of the Louis Junior Spikes; there are some colourways of this shoe that definitely aren't subtle and they grab your attention. So, just to clear it up, I'm talking about the Black-Black colourway. The lining of the shoe is made of leather which almost cocoons your feet in comfort – the leather feels expensive, like something you would find in the interior of a car and not as the lining of a shoe. I've already gone over the red soles so let's move onto the next biggest thing – the spikes that adorn the toe box area of the Louis Junior Spikes. These spikes certainly look very sharp and almost like a hazard but they are made of rubber so don't worry – you won't impale yourself if you ever accidentally step on your pair of Louis Junior Spikes. The spikes are another part of the shoe that lets everyone who knows about the Christian Louboutin that you're wearing a pair of his sneakers – they serve as another iconic part of the shoe. I can almost guarantee that you won't see another pair of sneakers that aren't Christian Louboutins that have spikes on them - it's almost if he has coined the spikes and red sole and no one else experiments with them. Another factor that contributes to the success of the Louis Junior Spikes is there simple silhouette – if you asked someone to draw a sneaker, 80% of people would draw something that represents this sneaker. In my opinion, the Louis Junior Spikes are just sneakers that are complete in the sense that there is nothing that I don't like about the design. They remain subtle yet let people know that the shoes are worth near £700 and I like that – I like that a lot.
Giuseppe Zanotti
The next fashion house on this list is another one that is known for its sneakers – in this case, it's Giuseppe Zanotti. Giuseppe Zanotti is another Italian Fashion house on this list but unlike the others on this list, this Italian fashion house is known predominantly for its sneakers. Giuseppe Zanotti's website describes their heritage - 'what began with a collection of perfectly balanced, gorgeously embellished heels has grown into one of the premiere luxury houses, yet, at the centre of it all, is Giuseppe's boundless creativity and enduring love affair with footwear'. His website goes on to say that 'one part sensual, one part rock and roll and all parts Giuseppe, his beautifully crafted heels are nothing short of iconic'. I felt as if this majestic introduction was necessary for a designer that has done as much for shoes as Giuseppe Zanotti has – like Christian Louboutin, his origins come from shoes (particularly heels and stilettos). However, as 'sensual' and 'iconic' the heels of Giuseppe Zanotti are, we will not be talking about these – our focus is the sneakers produced by Giuseppe Zanotti. In particular, we will be talking about the Frankie by Giuseppe Zanotti.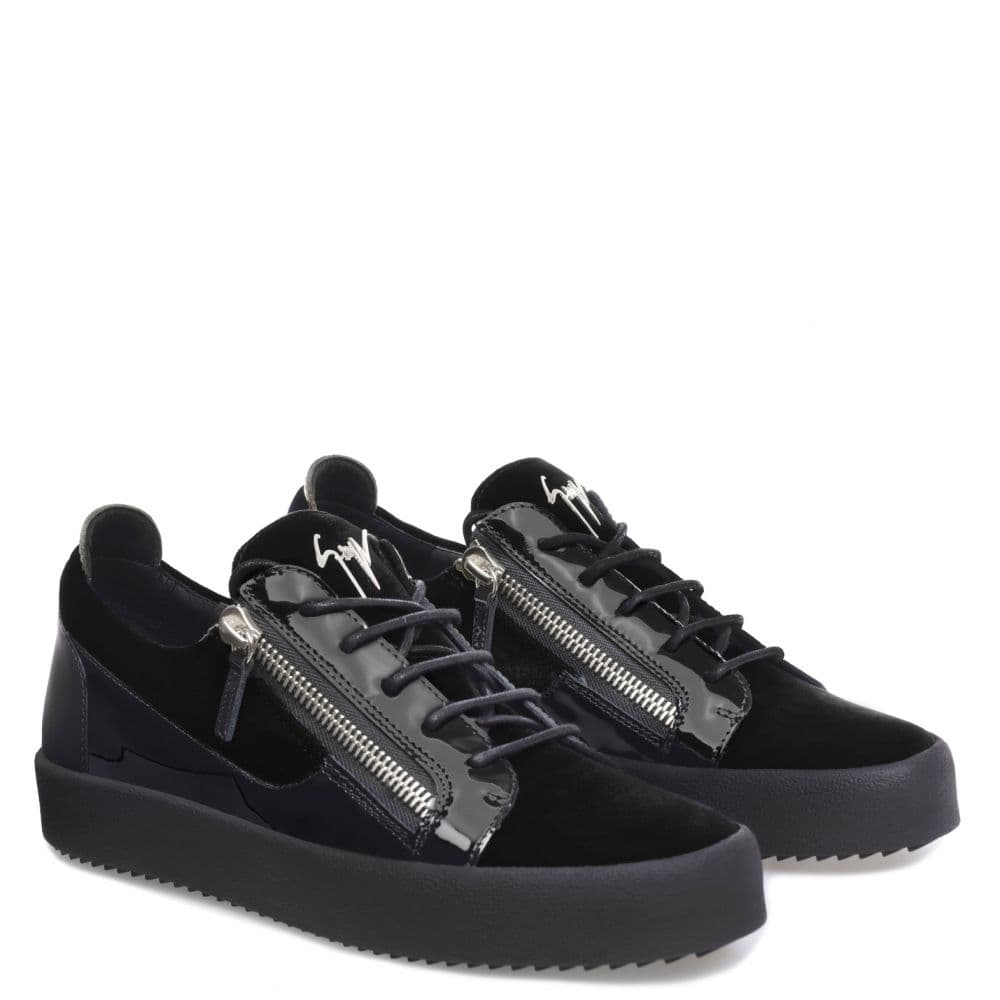 Now, the Frankie by Giuseppe Zanotti comes in a range of different colourways but there are the same basic components that make up this shoe. The first is the low top silhouette – looking at this shoe from the side, I don't see any resemblances to another shoe. This silhouette has a much wider opening to slip your foot in compared to other silhouettes I have seen – I guess this will be better to slip your foot into the sneaker and would improve comfort of the Giuseppe Zanotti Frankie, but I think it just looks a bit odd. It seems as if the proportions of the shoe are a bit off; the opening looks 15% bigger than usual and the front of the shoe looks 15% smaller than usual. However, despite me not being a fan of the design, I definitely am a fan of Giuseppe Zanotti doing something a bit different or otherwise the Frankie would look like every other sneaker out there. By changing up the proportions of the shoe. Giuseppe Zanotti has given it character and uniqueness and I commend him for that. Another thing that characterises the Frankie is the inclusion of zips – two zips line both sides of the shoe. This is also something that we don't usually see and I'm all for brands experimenting. I think the zips give the Giuseppe Zanotti Frankie a contemporary look compared to other sneakers, and I think without them, the Frankie would have almost a vintage look.
The Giuseppe Zanotti Frankie also features a tonal lace up closure, soft leather upper and black patent inserts that feature on the side. The rubber sole also features Giuseppe Zanotti branding, similar to how Christian Louboutins say 'Christian Louboutin' on the sole. One thing I'll say about this sneaker is that the craftsmanship is great – you can tell it is a luxury sneaker but you're paying much less for this sneaker compared to Christian Louboutin's and I would compare the two in terms of craftsmanship and quality. Overall, this is another great example of a high-end, luxury sneaker – it's either a love or hate design and I was initially part of the hate team however, they have grown on me and I may grab a pair in the very near future.
Maison Margiela
The next fashion house on this list is another that focuses mostly on shoes – this time it's Maison Margiela. Now, before starting out, I would like to say that I am a big fan of Maison Margiela as a sneaker brand – I, as a sneakerhead, would classify them as a sneaker brand before putting them as a fashion house. Some of you may know this brand as Maison Martin Margiela however it is now known as Maison Margiela. This is another fashion house that is based in France (as I explained before, Paris and France is just a fashion hub) but Maison Margiela is actually Belgian. This is another fashion house that is relatively new onto the scene compared to some others – it was founded in 1988 but they already have a rich history because of the quality of the garments and shoes put out by Maison Margiela. The most famous silhouette by Maison Margiela is the Replica sneaker category and this is the sneaker I will be talking about; I researched this sneaker online and it has been said that the Maison Margiela Replica sneaker is a 'carbon copy of a classic German Army Trainer'. I looked this German army trainer up and the resemblance is uncanny - apparently, Adidas produced the 'Bundeswehr Sportschuhe' in the 1980s for the West German army – 500,000 soldiers got this shoe but some found their way into thrift stores and shops in Germany.
Now, Maison Margiela came across this sneaker and thought – if they are good enough for the West German Army, they are definitely good enough for retail customers. Maison Margiela realises that the BW sport shoes (the shoes that were designed for the West German army) were the right combination between style and function; and oh boy was he right.
The Maison Margiela Replica sneaker was an instant hit and people became huge fans of them – this is a truly timeless sneaker. They were originally released in the mid 2000s and they are still as popular today. This is another shoe that doesn't overdo the branding – the only logo you can see is that tonal logo patch at the tongue. Like with the Louboutin's, people who know about this shoe will know what you are wearing. Someone described this as 'minimalistic luxury' and I agree with this phase wholeheartedly when talking about the Louis Junior Spikes by Christian Louboutin and the Maison Margiela Replica sneaker. Now you may be surprised to know that while the sole is made of rubber (the usual material) the upper of the shoe is made from 100% lamb skin. The insole of this shoe also features a 'passport' for the shoe – I don't know what else you could call it. It tells the wearer about the 'style description', describes what the Maison Margiela replica sneaker was 'originally', the 'provenance' of the shoe (this basically means where the shoe came from) and what time 'period' the shoe was released in. These sneakers retail for £380 and I think they are a great looking sneaker that (like I said before) provide the right balance between style and functionality.
Prada
The next and final fashion house on this list is Prada – this is yet another Italian luxury fashion house with a very long history. The brand was founded in 1913 by Mario Prada and the brand specialises in a range of things but I wouldn't say that they care the best sneaker fashion house on the list. Nevertheless, they have to be mentioned because they do have a couple of great sneakers. As always, I hopped over to their website and clicked men, shoes and then finally sneakers. My favourite sneaker from their ranks was a sneaker called 'Prada America's Cup' sneakers. These sneakers were made specially for the Luna Rosa Prada Pirelli team – if you don't know what this is (don't fret, I didn't either!) it's a boat racing team. You may have seen their adverts and Prada really push this team in terms of their marketing – The Luna Rosa team have their own perfume too that is currently Prada's flagship perfume.
These sneakers have a sporty, contemporary design and I wouldn't say they are tacky – they don't overdo the branding and are simple. The sneakers are made from patent leather and something called 'Bike fabric'- Prada don't specify what this is but I'm assuming it may be related to the leather available on bike jackets. The only branding you can see is the red Prada label seen on the tongue and overall the sneaker looks great. However, I would like to say that the Prada's America's Cup sneakers definitely take pointers from the Jordan 11 in terms of design and also in terms of the materials used. The side of this sneaker definitely looks like the Jordan 11. The insole of this shoe is made from leather to make sure your feet stay comfortable. Overall, this sneaker is definitely a great addition to anyone's closet if you're looking to step out and impress. It's a beautiful looking sneaker but personally, I think I'll stick to the Jordan 11 in this case.