The Best Jordan 1 and 4 Colorways of All Time
Shaba
In my opinion, (with the 11s and 3s) these are the most popular silhouettes released by Jordan Brand at the moment – everyone seems to want a pair of 1s or 4s and you can see why. They are one of the most iconic silhouettes and are timeless – the host of colourways and renditions of each of these shoes mean that they are always in demand and there is something for everyone. The popularity of these shoes is reflected in Dave's new hit, Clash, where he says 'Jordan 4s or Jordan 1s, Rolexes, got more than one'. So, today I bring you a list of the best colourways of Jordan 1s and Jordan 4s money can buy. As always, please let me know if you think that there are any shoes that I have missed of this list and please share this blog to your friends and family if you think it's worthwhile.
Black Chrome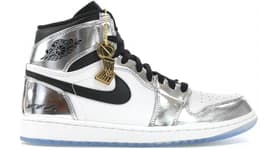 First on this list comes the ambitious collaboration between Jordan Brand, Eminem (one of the greatest rappers of all time) and clothing brand Carhartt. This colourway is known as 'Black Chrome' and it is just a wonderful looking shoe – there is no other way around it. It is definitely one of my grails but I don't want to fork out over $25,000 on a pair of sneakers until I'm a billionaire! The reason that this Jordan 4 is so expensive is due to the exclusivity of it – Eminem gifted this extremely rare sneaker to his family and friends in 2015. Only 10 extra pairs were made, and these were auctioned off on eBay to raise money for a good cause – Jordan Brand and Eminem donated all the money from the sale of the shoes to charity. The sneaker is actually a pretty simple design – it features a Carhartt twill upper, metallic silver lace tabs, a contrasting white midsole and a grey outsole. The shoe also features Eminem's backward 'E' logo and a Jason Voorhoes hockey mask on the heel. It's safe to say that I won't be buying these sneakers anytime soon but if you have the money, why not?
Jordan 4 Black Cat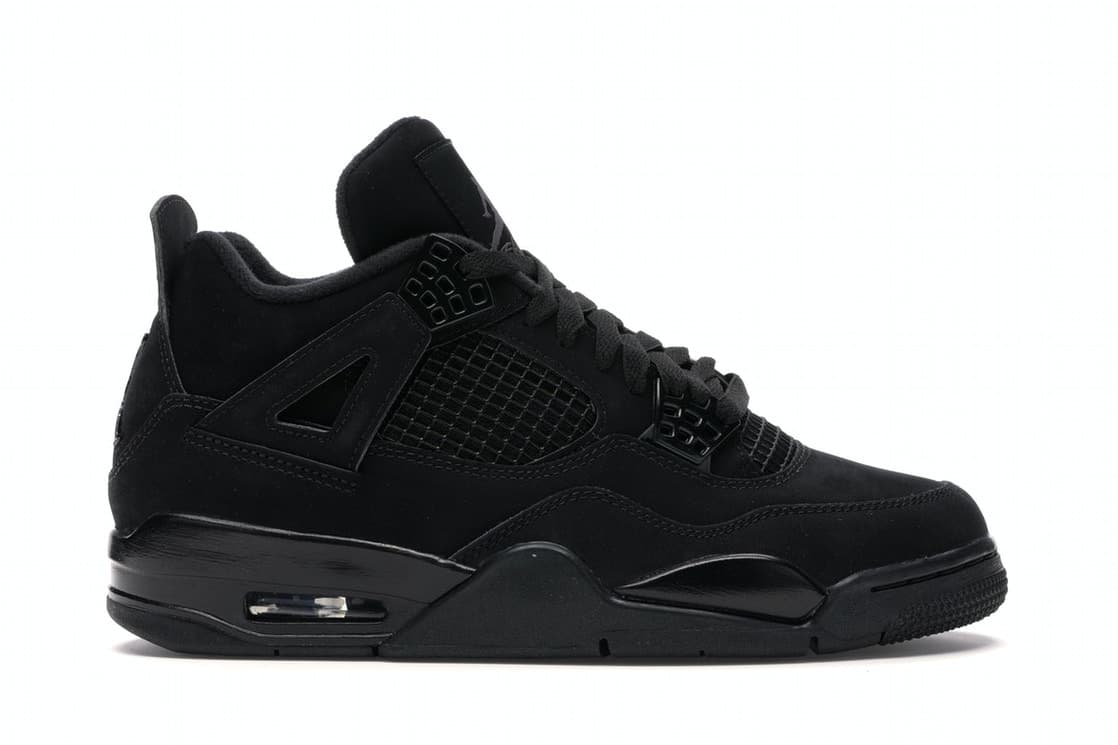 The next on this list is the Jordan 4 Black Cat – this sneaker also made it onto my best colourways for all Jordans so there is no way they would not feature on here (If you haven't checked out that list, check it out.) There isn't a great story behind the Black Cats like some of the other sneakers on this list but it is definitely a great shoe. Originally released in 2006, the Jordan 4 Retro Black Cat got a rerelease in 2020. The name of the shoe draws inspiration from one of the nicknames of MJ himself; like MJ, these shoes move subtly but have a great impact in any situation. This pair makes use of a black suede upper and matching black midsole. The whole shoe is blacked out apart from the Jumpman on the tongue which is a light grey – this is the only contrasting detail on the sneaker and it just lets people know that you're wearing one of Jordan Brand's sneakers.
Jordan 1 OG DIOR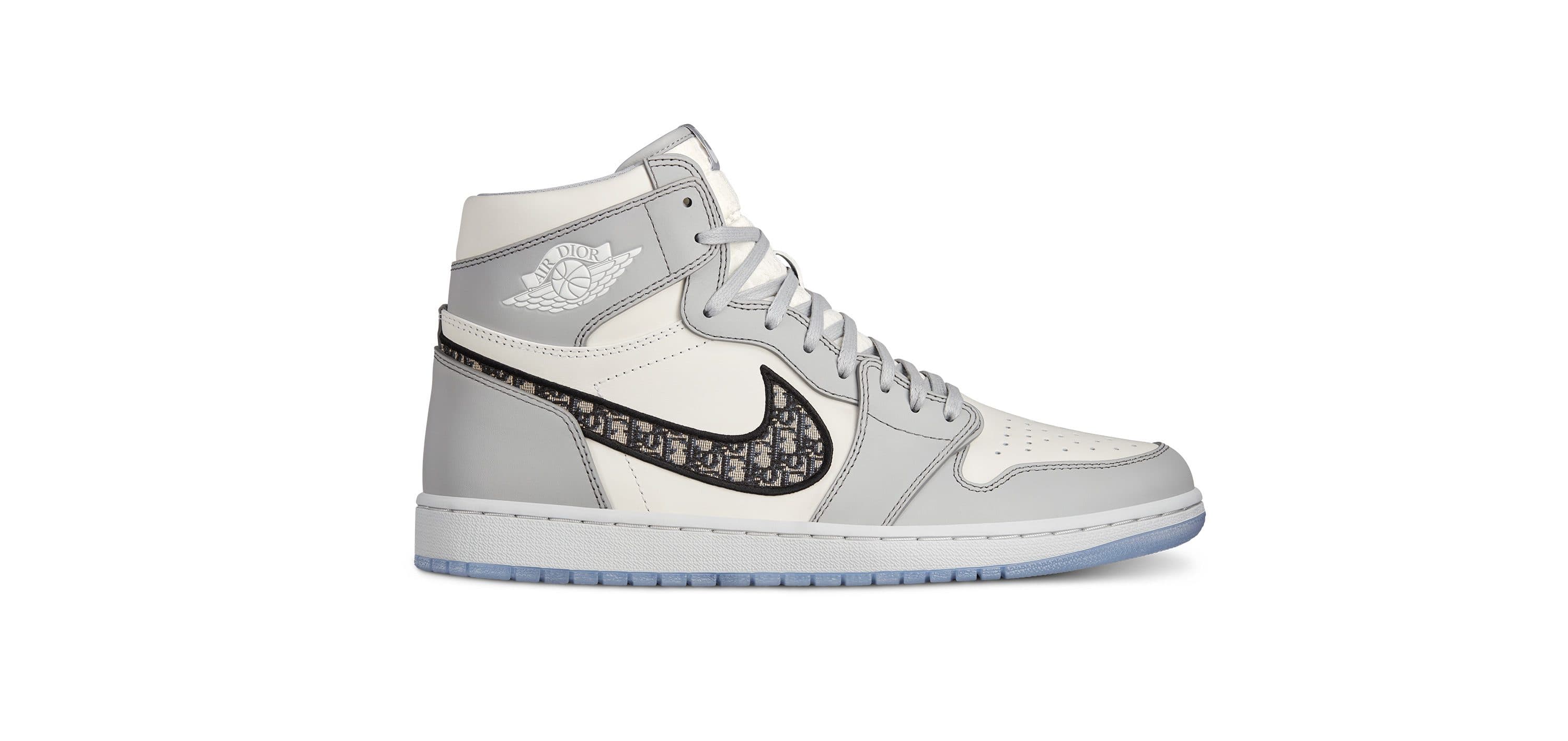 Next on this list is a Jordan 1. One of the newer releases on this list, it is the Jordan 1 OG DIOR. When unveiled, this sneaker truly broke the internet – fans went crazy over this u expected collaboration that saw a high end brand make its rendition on one of the most iconic silhouettes of all time. The Air Jordan 1 'is a style that has transcended sports and changed fashion and sneaker culture for ever' and I couldn't agree more. To take one of the most iconic silhouettes and do it justice is a big achievement for DIOR in my opinion. So, how did this sneaker come into being? The Creative Director of Dior Homme is a man by the name of Kim Jones – he designed the 'couture' take on the Jordan 1 silhouette and it broke the internet when it was unveiled during Dior's Pre+Fall 2020 runway show in Miami Beach of Florida. Jones says that 'I chose to collaborate with Jordan Brand because it's iconic, just like Dior' (hard to argue with that). Jordan Brand's VP of Design (a man who goes by Martin Lotti) says that 'Our partnership with Dior offers a new look into the stoke of basketball and blends high-end streetwear with luxury fashion'. This collaboration was between two giants of their respective worlds and I think that is the root cause of the popularity of these sneakers – the release of this shoe was limited to 8500 pairs and each was individually numbered. The Jordan 1 Dior is composed of a white and grey leather upper with the Dior monogram print adorning the swoosh – this sneaker employs the use of premium quality materials (justifying the crazy price tag) and each pair was made in Italy. The J1s feature icy translucent soles, a Dior branded tongue and the traditional wings logo embossed on the side of the shoe but there is a difference – instead of the traditional 'Air Jordan', the logo reads 'Air Dior'. The shoes debuted in April 2020 for a price tag of $2000 but went for much, much more on the secondary market.
Air Jordan 1 Retro High SB 'LA to Chicago'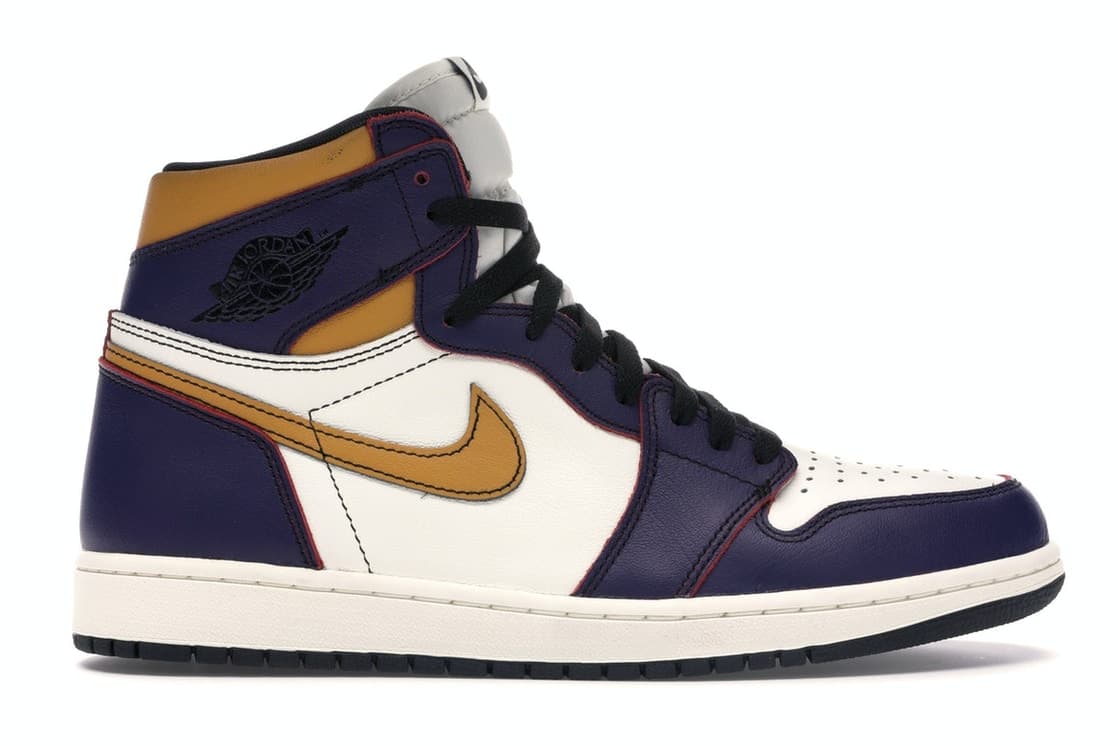 The next on this list is another Jordan 1 – this is the Air Jordan 1 Retro High SB 'LA To Chicago'. This was a collaboration that everyone was just expecting to happen – traditional skating shoes like Vans have high top sneakers so it made sense for a Jordan 1 to serve as the silhouette for a skateboarding sneaker. The Jordan 1 was the perfect silhouette for this because it also offers support (perfect for both basketball and skateboarding) and a flat midsole. This Air Jordan 1 returns in a classic basketball matchup colourway – the Lakers vs the Bulls. This edition launched in 2019 to pay homage to the legendary matches that took place between the Los Angeles Lakers and Chicago Bulls. The Court Purple and University Gold which the shoe adorns initially are a rendition of the purple and gold jerseys of the Lakers. The reason that I find this shoe iconic is due to what happens next – the upper wears away to reveal red and black alternate hues (which represent the Bulls iconic jerseys). Both colourways look amazing and it was good to see Jordan Brand experimenting with this pair of Jordan 1s.
Kaws x Air Jordan 4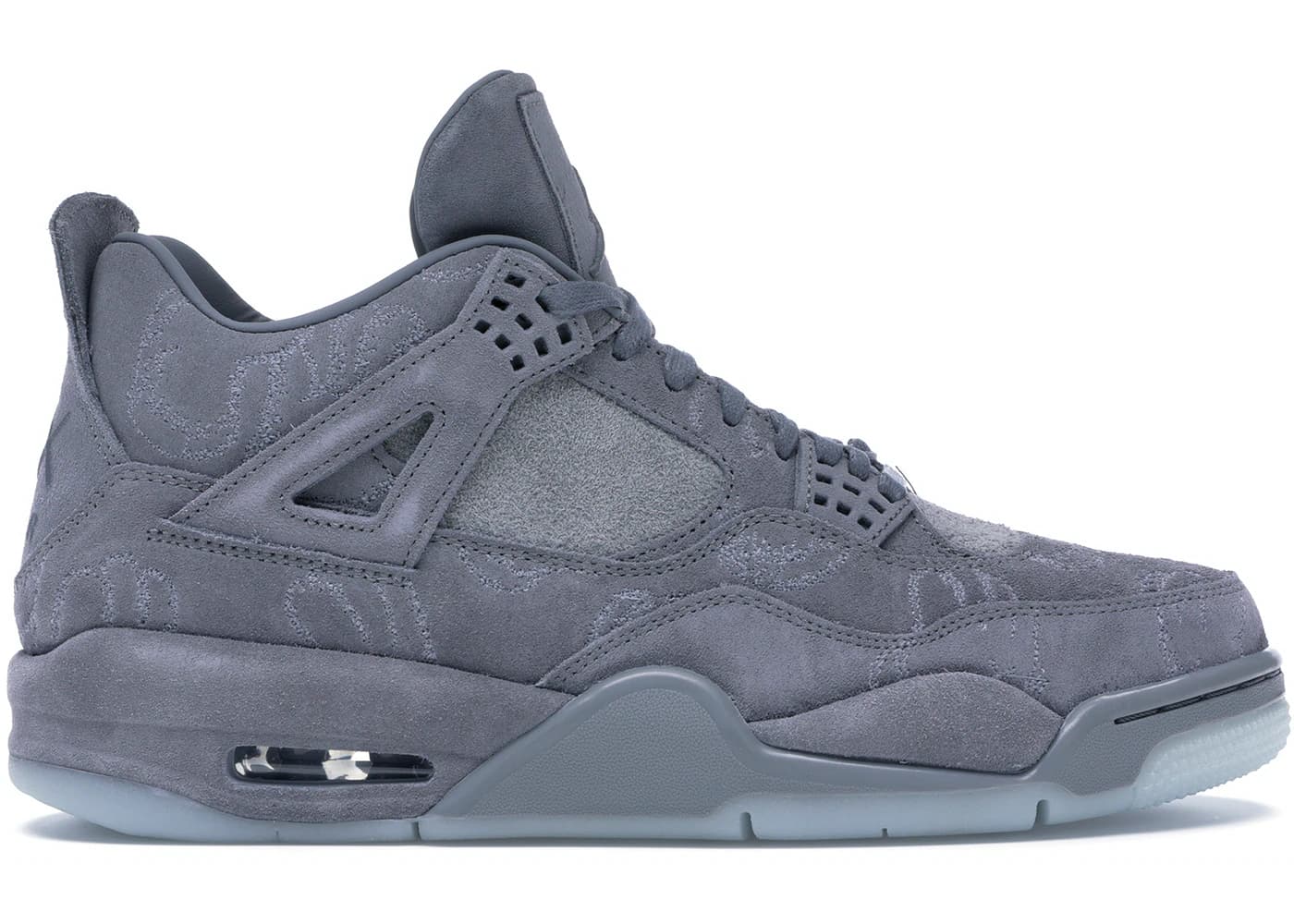 The next pair of shoes on this list is another collaboration- this time it's Kaws x Air Jordan 4. For those of you that haven't heard of KAWS, he is a marvellous artist – no, seriously, he's good. I'd recommend checking out a few of his pieces if you have some spare time. His real name is Brian Donnelly and I can basically guarantee that you have seen one of his pieces before, even if you don't know it yet. Before the release of this pair, KAWS was being seen as a recluse – after he discontinued his brand OriginalFake, he wasn't making as many pieces as before. But Jordan Brand decided to commission him to work his magic on what was his best canvas to date. The result is a shoe which features a premium grey suede which people describe as 'buttery'. The KAWS graphics are etched into the upper and the hang tag matches. The wings that adorn the shoe are also wrapped in the same premium, grey suede. The sole of the KAWS Air Jordan 4 is actually glow in the dark which is a good party piece but this party piece comes at a very premium price.
Travis Scott Air Jordan 1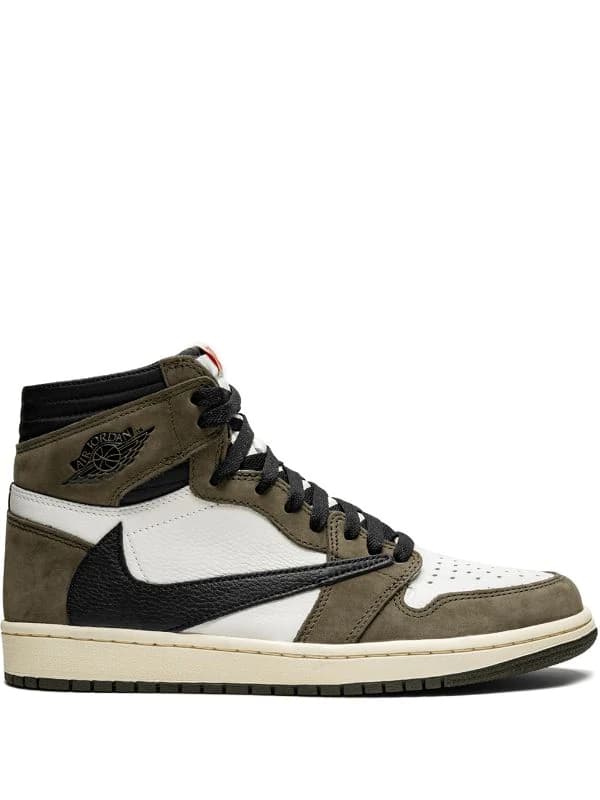 The next shoe on this list is an Air Jordan 1 which also featured on my best colourways list – it's the Travis Scott Air Jordan 1 collaboration. The shoe, designed by multi-platinum rapper Travis Scott, has been termed as a new 'outlook' on the timeless silhouette of the Air Jordan 1. This is mainly due to the oversized, backwards swoosh on the lateral side of the shoe – considering it had never been done before, the new design sent shockwaves through the internet. People loved it or hated it - I'm one of the ones that fell in love with the new design (you could call it love at first sight). The traditional swoosh features on the medial (inner) side of the shoe – the shoe is built from the premium leather that you can expect from Jordan Brand and a beautiful brown suede. In my opinion, Travis Scott made brown cool with this sneaker release - before the release of the Travis Scott Jordan 1s, I doubt I would have bought a pair of sneakers that were brown. Travis Scott's face logo is embossed on the heel and a Cactus Jack logo on the right insole. The Jordan 1 is further modified with a padded nylon collar that has a hidden stash pocket – now this can stash whatever you want. The premium price that comes with this pair of Jordans is due to their exclusivity but also due to the hype around these shoes.
Air Jordan 4 x Off White 'Sail'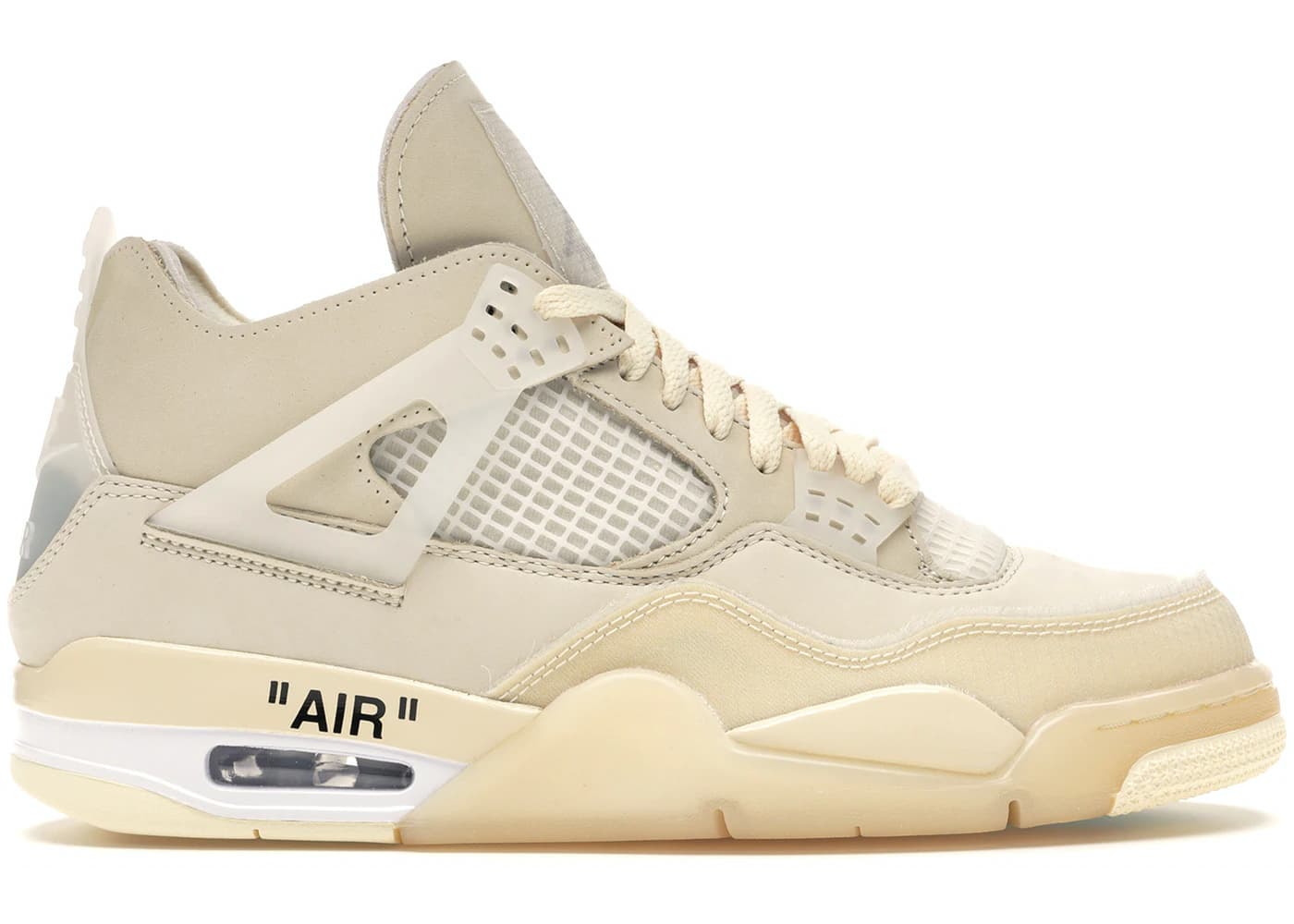 The next pair of shoes on this list is another collaboration – this time it's the Air Jordan 4 x Off White.
This pair is actually a women's shoe but it's common to see men wearing it too because it's just a great looking sneaker. The colourway for this pair is described as 'Sail' – this pair originally came about during Virgil Abloh's 'Figures of Speech' exhibit in Chicago's Museum of Contemporary Art in Fall 2019. It was released to the public in Summer 2020 (July 25 2020) and of course, it sold out within seconds and started selling on the secondary market for over $2000 almost straightaway. The sneaker features the signature 'quotations' that are to be seen on almost all of the Jordan x Off White collaborations . It has "Air" printed on the midsole and "shoelace" on, guess what, the shoelaces. The translucent heel, netting on the midsole and throat are firsts for the Jordan 4 and I'm all for it.
Chicago Air Jordan 1 x Off White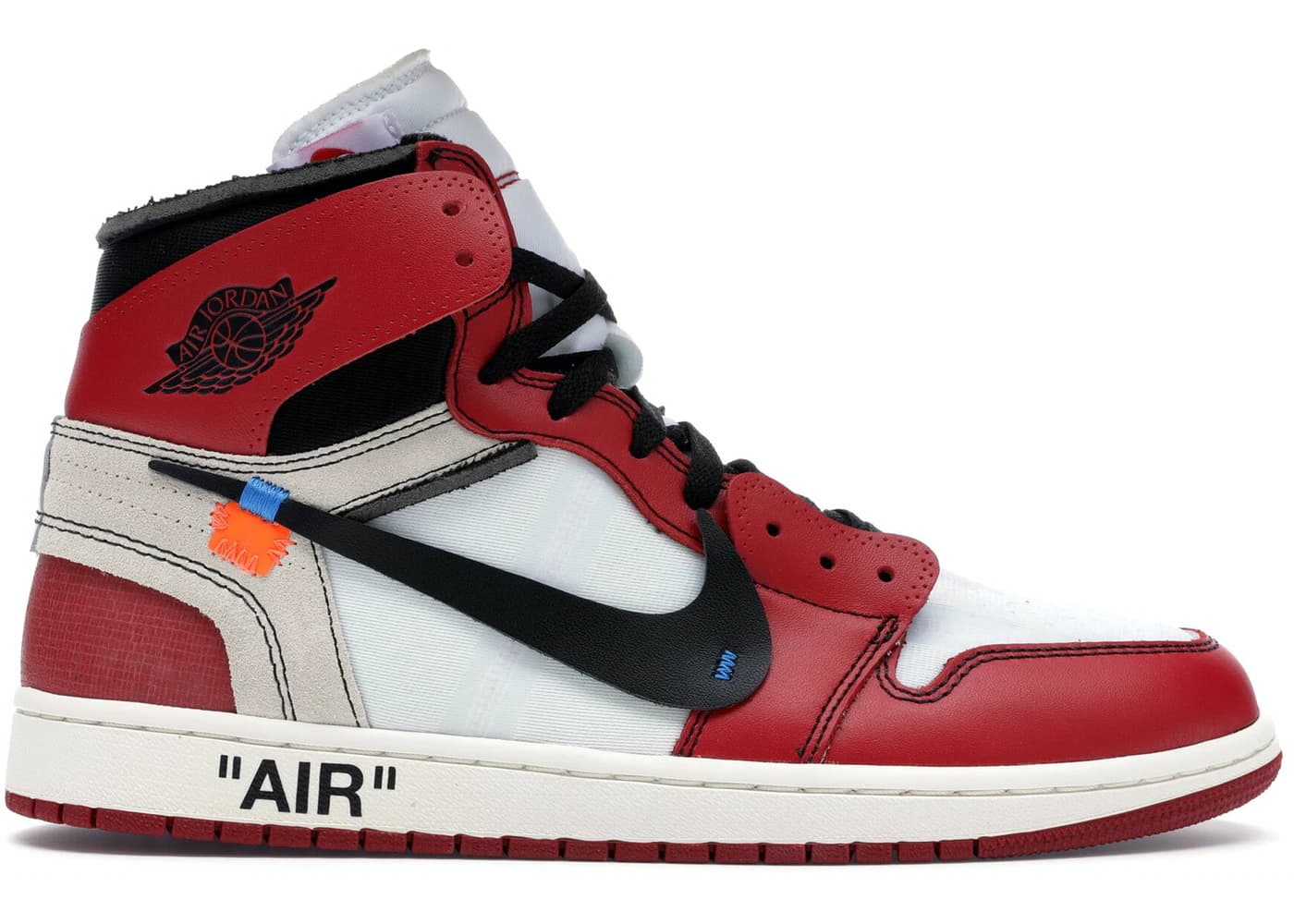 Sticking with the theme of Off White, next on the list is part of 'The Ten' collaboration between Jordan Brand and Off White. The Chicago Air Jordan 1 from this pack was termed the sneaker of the year for 2017 and I can see why – at the time, Abloh's deconstructed Jordan 1 took the world by storm. Based off the Chicago Air Jordan 1 (which featured on my list of the best Jordan colourways), the Off White Jordan 1 features like exposed foam, stitched on swooshes and a red zip tie. In my opinion, this is one of the best sneakers of all time due to its twisted reincarnation of a classic.