The Most Iconic Nike Dunks of All Time
Shaba
Today, I bring you the Most Iconic Dunks of all time. As always, this is a list of the Dunks that I think are the most iconic and thus, there may be some that you agree with and others that you don't. Please let me know of any Dunks you think I missed off the list and please share this compilation with your friends and family if you think it's worthwhile.
Nike Dunk BTTYS pack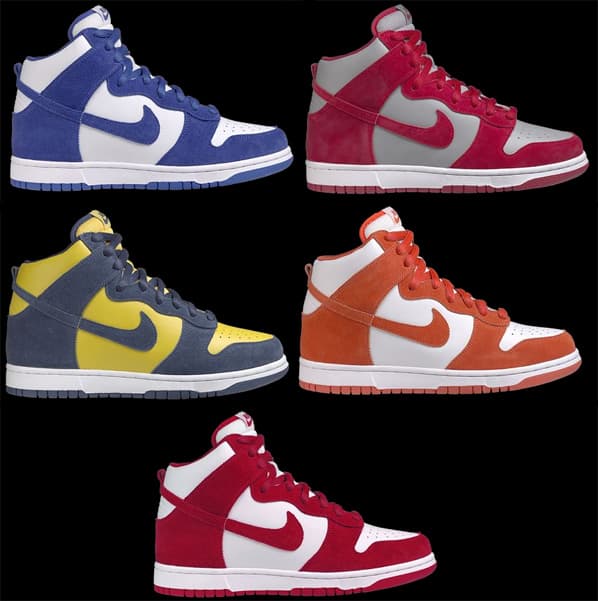 To start off this list, we have the Nike Dunk BTTYS pack - I'm talking about the 1985 OG version. For those of you that don't know, BTTYS stands for Be True To Your School. This pack saw the Dunk High come into existence so you can't deny how iconic this sneaker pack truly is. 1985 saw Nike Strike deals with different schools in America to make the original Nike Dunk High their teams official shoe – the schools included the University of Michigan, University of Kentucky, University of Iowa, Georgetown, Syracuse, St. John's and UNLV. The Dunk High was styled in different colourways for each school and the shoes from the original BTTYS pack have become some of the most iconic, desirable and coveted sneakers of all time – this may be due to the fact that the Nike Dunk gained almost a cult following up until the mid 2000's where popularity dropped, but it has definitely picked back up again and popularity is seemingly reaching new levels everyday. Nike's tactic to create deals with the top performing schools in America and produce sneakers to match the school's colours was a masterstroke of a move; it caused the Dunks to be exposed to a mass audience and they were an almost instant hit.
Supreme x Nike SB Dunk Low 'White Cement & Black Cement'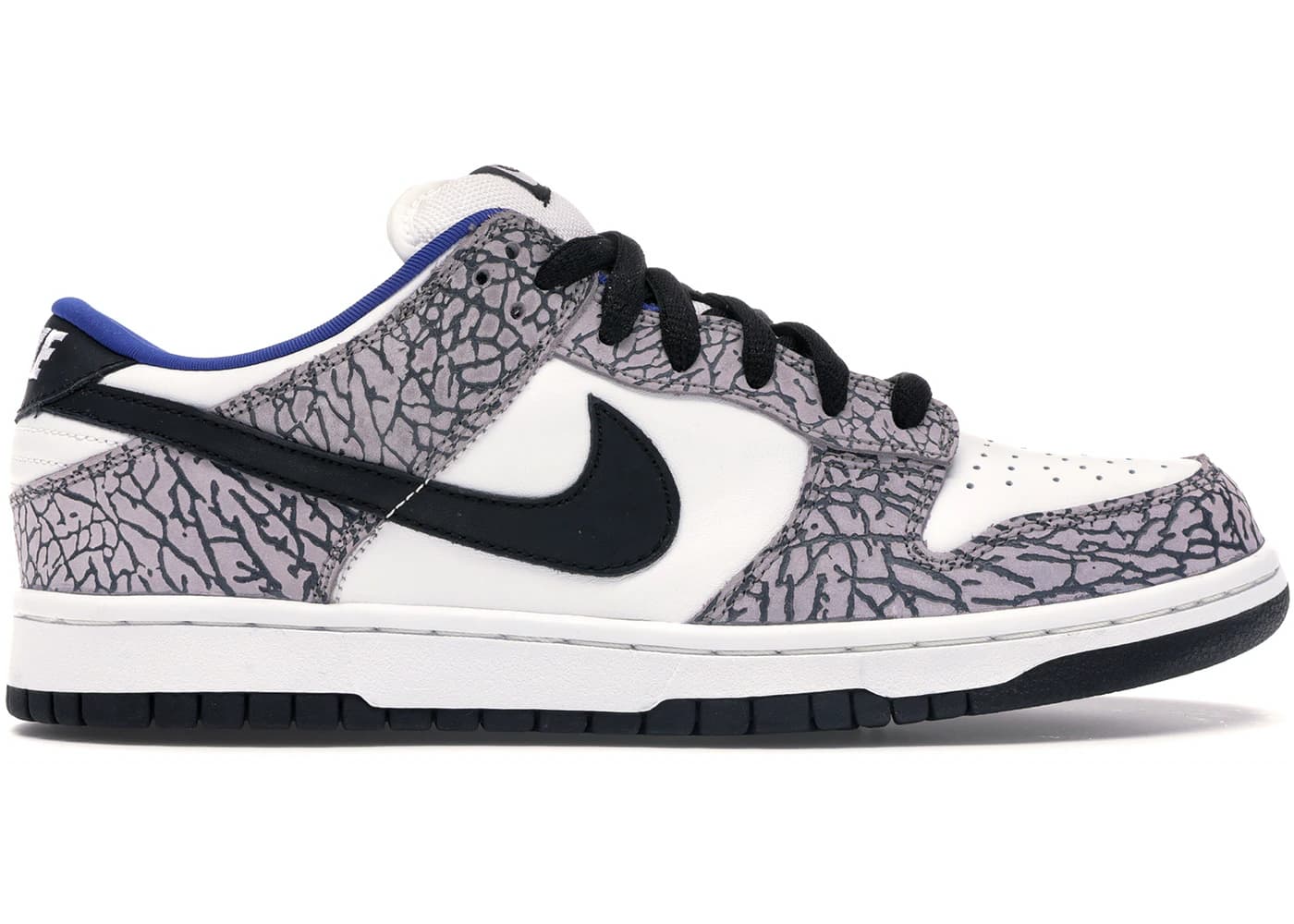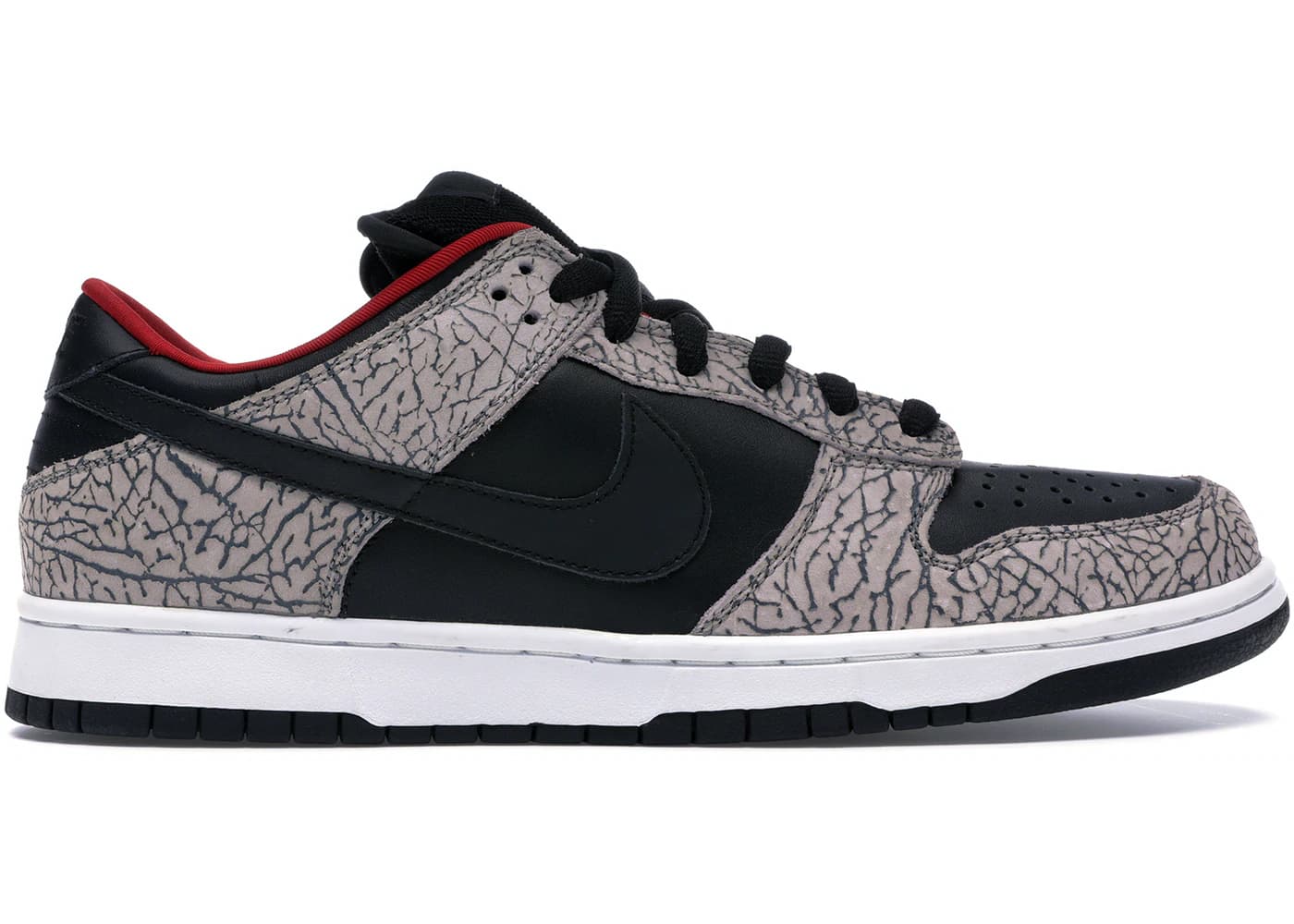 The next dunk on this list is a collaboration between Supreme and Nike SB. Supreme is a streetwear company that was founded in 1994 by James Jebbia – it started out as a small shop on Lafayette Street in New York but has now reached global status. Seriously, who doesn't know about Supreme now? The Supreme x Nike SB Dunk Low 'White Cement & Black Cement' was released in September of 2002. Only 500 pairs were made and released to the public – back then, sneakerheads had to queue up outside Supreme stores in New York and Tokyo. Funny thing is that this wasn't done by choice – these were the only two Supreme stores that existed in 2002. The inspiration for this Dunk came from the Air Jordan 3 and the famous elephant print that features on most versions of the Jordan 3. The black leather upper of the Supreme x Nike SB Dunk Low is adorned by elephant print and features red accents. The shoe looks like the upper of a Jordan 3 has been draped onto the silhouette of a low Dunk – the similarities between the two may be the reason that this Dunk is so sought after. This dunk was the first time that Supreme ever worked on a shoe and this pair didn't have the hype back then that it would have if it was to be released today. The fact that it wasn't seen as a collectable item back then meant that many actually skated in this Dunk and this meant that the Dunk is much more desirable for collectors today due to their being only a few hundred pairs in existence. This may be the reason that prices soar over the $2000 mark for this collaboration between Supreme and Nike Dunk Low's.
Nike SB Dunk Low 'Paris'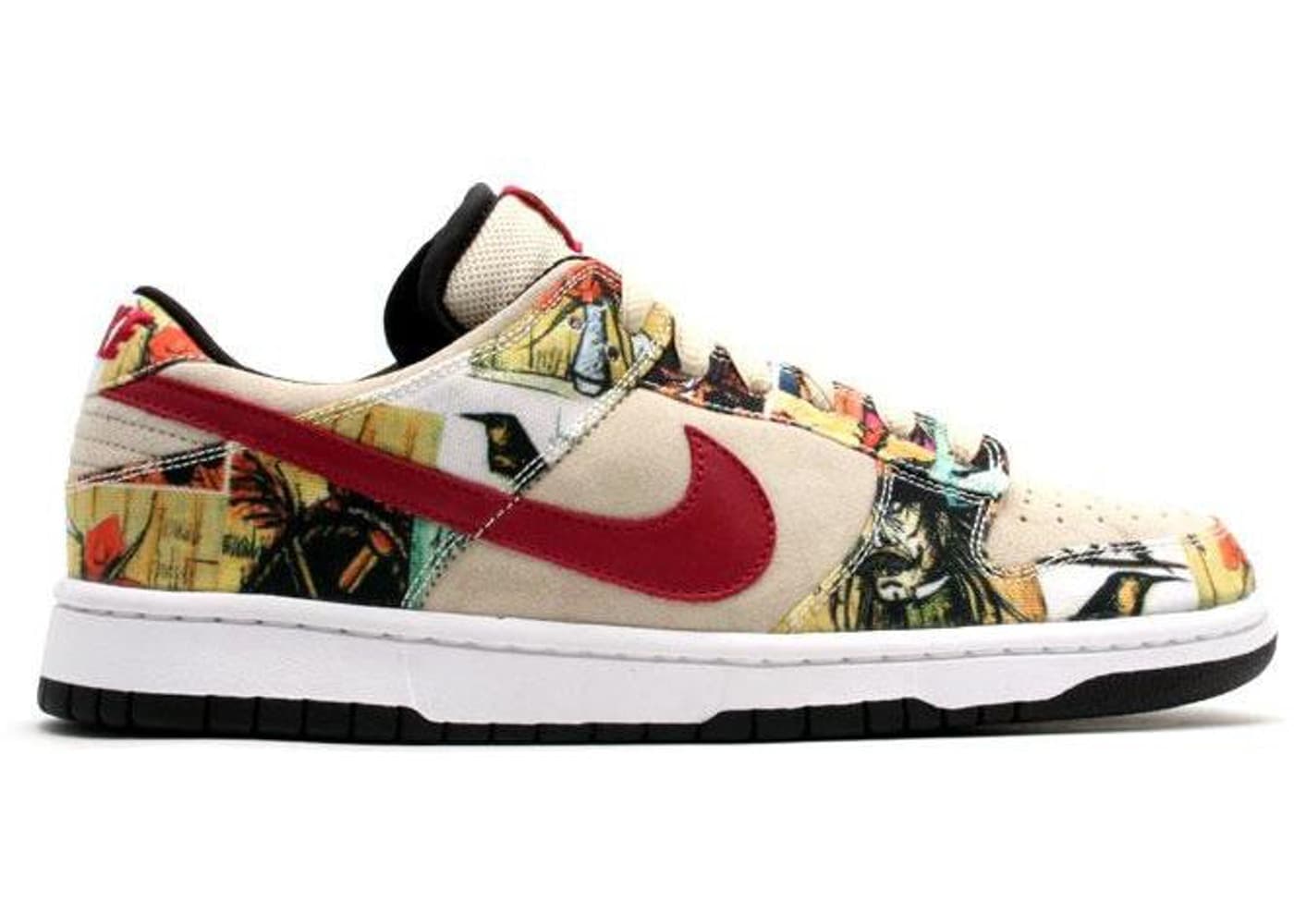 The next pair on this list is the Nike SB Dunk Low 'Paris' – if you check prices for this Dunk on any reselling website, you'll understand why it's on this list. It's definitely the most expensive Nike SB on the market as of right now; and I don't think that any dunk will topple this price anytime soon. These sneakers trade for about $20,000 right now and it's all a matter of exclusivity. The Nike SB Dunk Low Paris was released in 2003 but it's release didn't go to plan. Nike made this Dunk in order to recognise the effect that some cities have hade on skating in general and this Dunk was made in order to honour Paris for the imprint they left on skating. The Paris Dunk was supposed to release exclusively at the 'White Dunk: Evolution of an Icon' exhibit in Paris. However, as I said before, this didn't go to plan exactly. The exhibit featured paintings from French artist Bernard Buffet who passed away in 1999; the Nike Paris Dunk also features painting from the French artist on the overlays of the shoes. A raffle was to be held at the exhibit for the dunks however, due to a lot of demand, the raffle had to be cancelled and pairs were distributed through select sneaker stores in Paris like Opium and Colette (who have a Jordan 1 collaboration). It is said that people waited for days in the cold to get a pair of the Dunks but I'd say it was worth it - this Dunk is one of the most desirable of all time and is a grail for all sneakerheads.
Diamond Supply Co. x Nike SB Low 'Tiffany'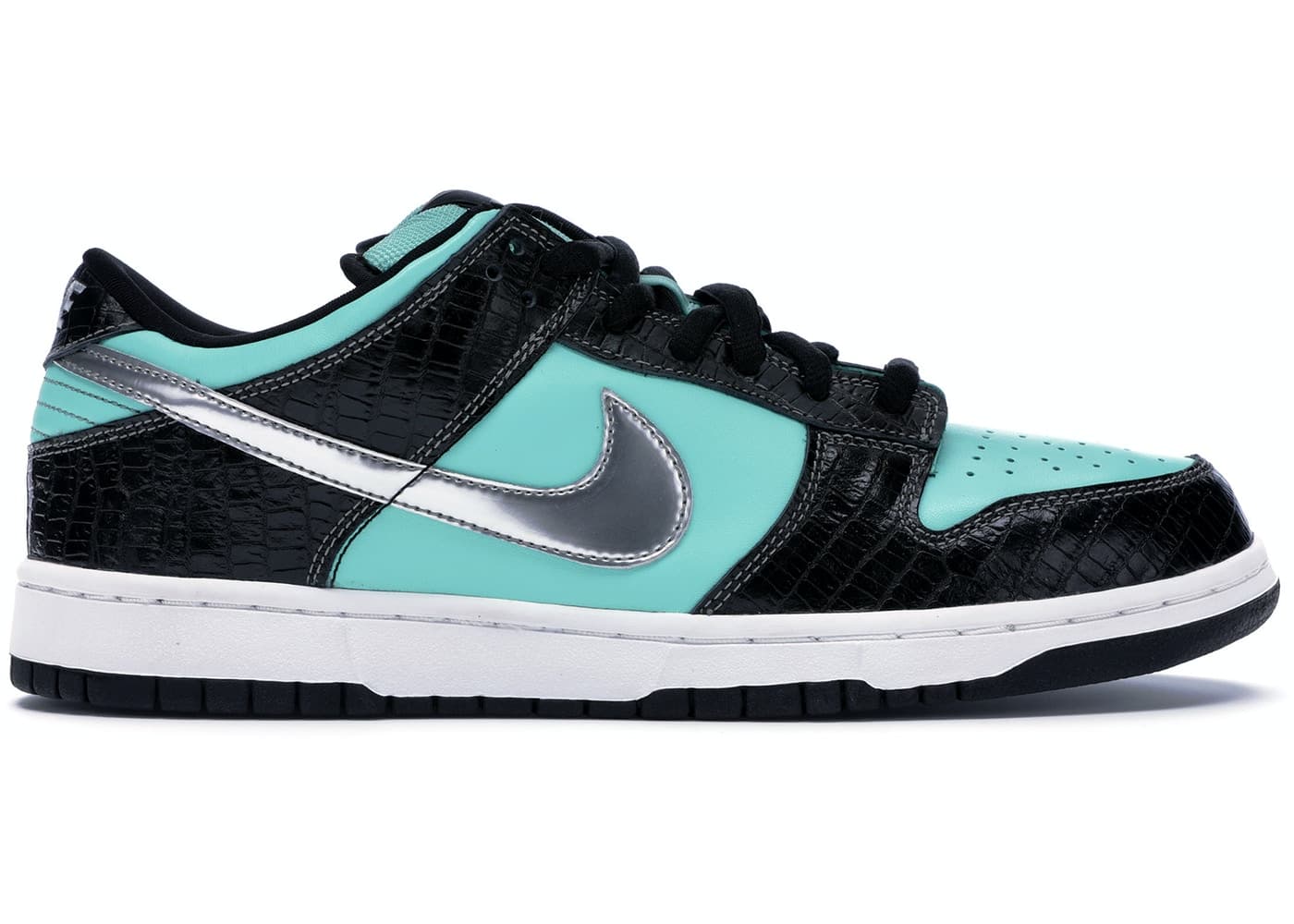 The next dunk on this list is the Diamond Supply Co. x Nike SB Low 'Tiffany' – this Dunk was one of the most hyped dunks of all time. I'd go as far as saying that it was in the top 5 for most hyped sneakers of all time (not just dunks!). Skate shops across the world received limited quantities of this sneaker which was designed by Diamond Supply Company's owner, Nicky Tershay (otherwise known as Nicky Diamonds). Contrary to what the name suggests, Diamond Supply Co. is not a jewellery shop - it's actually a shop that started life in the late 90's as a skateboard accessory and hardware shop. The shoe incorporates a turquoise leather upper with black overlays that have a crocodile effect to them (if you don't understand what I mean, you'll have to see the shoe) – as you all probably know, these are the signature colours of iconic jewellery house, Tiffany. The colours of the Diamond Supply Co. Dunk represented Tiffany, and this gave the shoe a nickname – it was called the Diamond Dunk on the internet. Now you can probably see the hype of a shoe that was called the Diamond Dunk and was going to be released in limited quantities in skate shops around America. Tershay himself says that, 'I don't know if it is the greatest SB. I think at the time it was the most hyped one.' – personally, I agree with that. I don't think it's the best Dunk of all time but I can see why there was so much hype around it.
Staple x Nike SB Dunk Low 'Pigeon'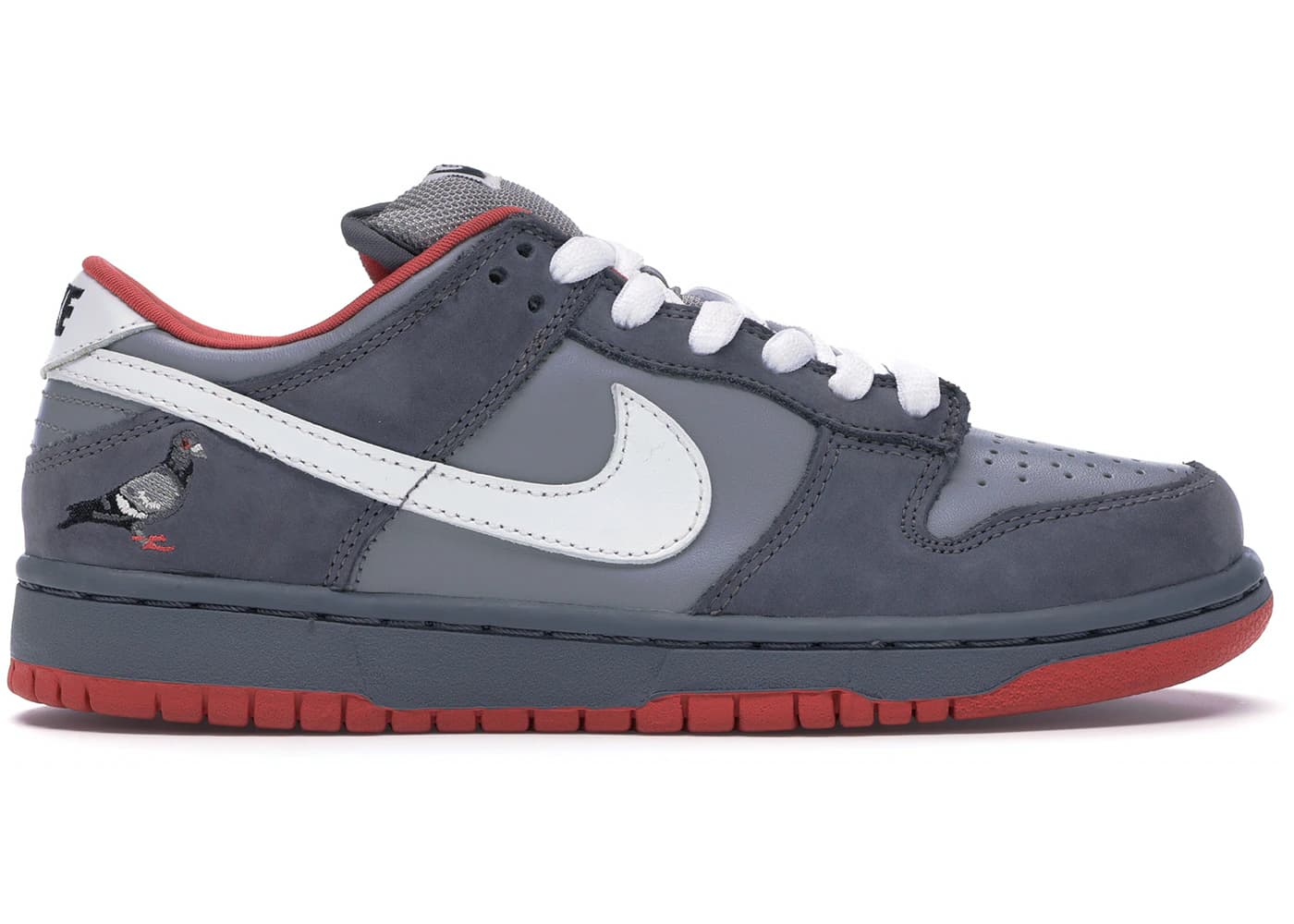 The next dunk on this list is the Staple x Nike SB Dunk Low 'Pigeon'. This Dunk was released in March of 2005 and sneakerheads (and sneakerheads who write articles (me!)) believe this is the shoe that shaped sneaker culture into what it is today. Now, I'll go out on a limb and say this isn't the best looking dunk but it is certainly iconic. The story of this shoe and how it was released is crazy - I'll paraphrase but be sure to check it out if you're truly into sneakers and sneaker culture. When the Pigeon Dunks released in 2005, word quickly spread around New York City that Jeff Staple (who describes himself as a creative visionary) was releasing a dunk. As would happen today, queues formed outside his shop in the lower east part of NYC – when release day came around (1st March 2005), queues were so long and out of hand that NYC police had to be called into control the lines. This caused word to spread even further and the events of the day were featured on newspapers the following day, which caused hype around the shoes to increase even further. Only 150 pairs were produced and this exclusivity is the reason that the Pigeon Dunks trade for around $20,000 to this day. Let me just put that into context – you could buy a brand new car or some pigeon dunks. How crazy is that? This is today's sneaker culture – it has become a business for some but remains a passion for others. The pigeon dunk has been inspired by the bird that you see all the time in NYC (or any populated city for that matter). The official colourway for the pigeon dunk is medium grey/white dark grey – this basically means that the upper is made of grey leather, features a white swoosh and an orange outsole (that is inspired by pigeon feet). I am not a big fan of the colourway but no one can deny how iconic the shoe is.
Nike SB Dunk Low 'Freddy Krueger'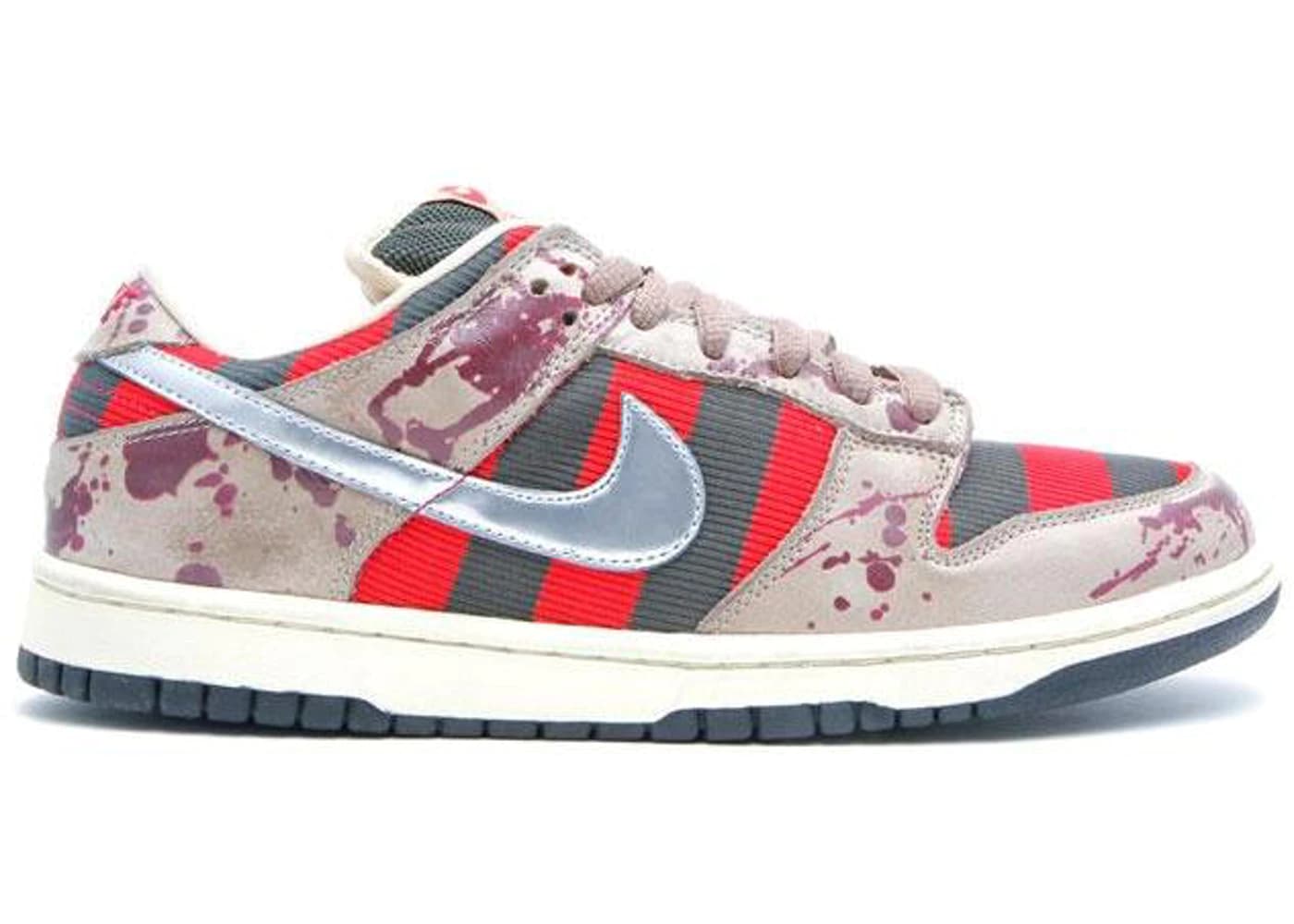 The next Dunk on this list is the Nike SB Dunk Low 'Freddy Krueger' – this is another dunk that trades for crazy prices. I once read that the Freddy Krueger dunk is the 'greatest sneaker that never was' – I agree and I think you will too after reading this paragraph. The dunk was made to celebrate the movie, Nightmare on Elm Street that released in 1984 and currently has a rating of 7.5/10 on IMDb. This is one of the many movies I have watched and despite it not being my favourite horror movie (that honour goes to the Shining Dead), it is definitely worth a watch. This dunk is known as the Freddy Krueger dunk as it features the same colours as Krueger's trademark sweater (Freddy Krueger is a fictional character who features in the Nightmare on Elm Street) – Krueger's sweater featured red and green stripes, similar to those that feature on the upper of this pair of shoes. The panels on the Freddy Krueger dunk is made up of a skin tone that is covered in splashes, and the swoosh is made of a reflective silver leather that reflects the gloves of Freddy Krueger(watch the movie to understand the reference). Inside the dunk, the insole features a graphic of burnt flesh to match Krueger's face. Now the dynamic changes; the plug gets pulled on this sneaker and only a few are produced. These become desirable instantly for their exclusivity and frankly crazy design – now, do you agree that these are the greatest sneakers that never were?
Nike Dunk High x Wu-Tang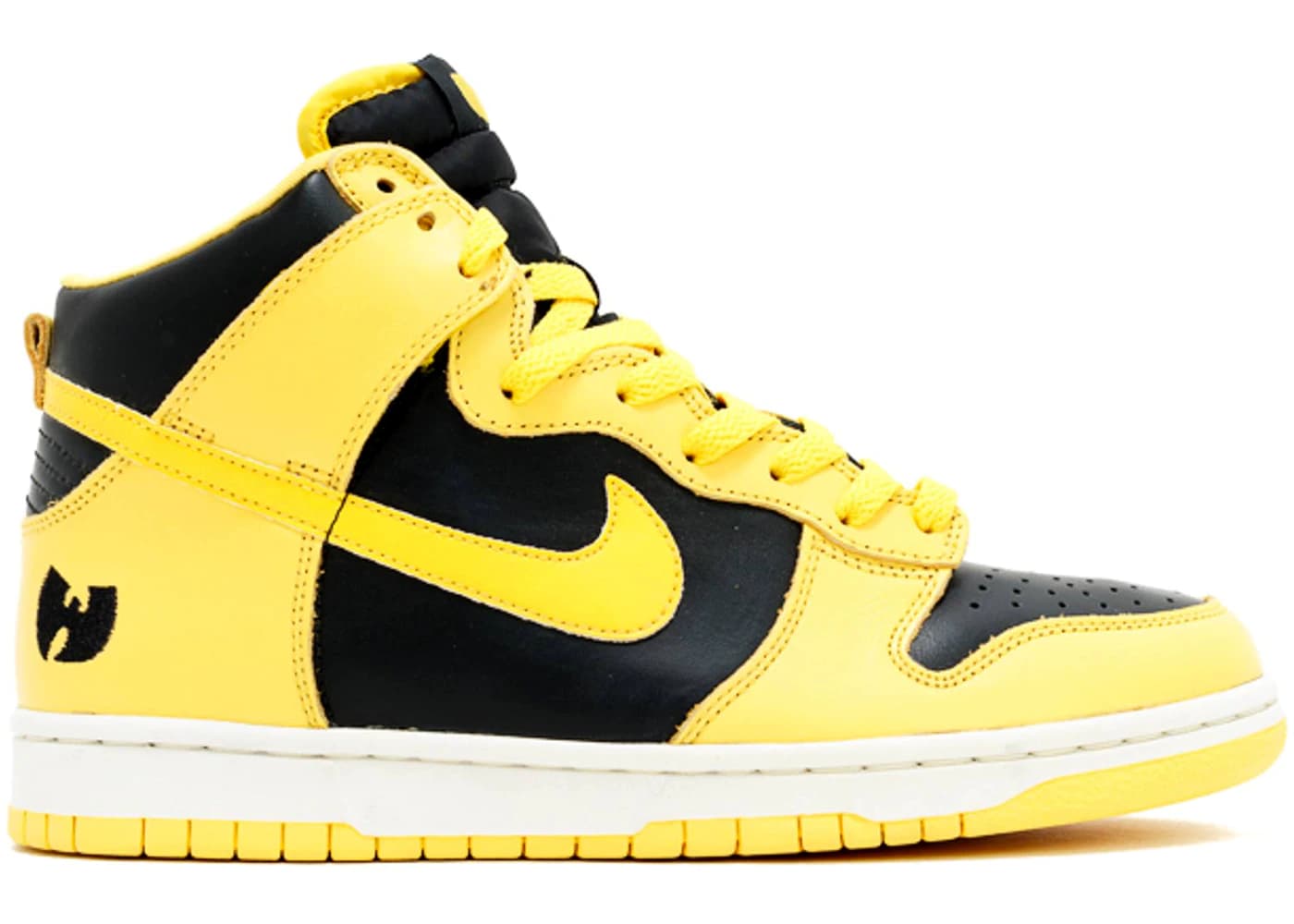 The next and final dunk on this list is one of my favourites sneakers of all time because I love who Nike collaborated with – for this dunk, Nike teamed up with one of the most influential rap groups, the Wu-Tang Clan. As you all probably know, Wu-Tang was made up of 36 people (or chambers). It is rumoured (no one really knows) that 36 pairs of the Nike Dunk High x Wu-Tang were made. If you look close enough, this sneaker is based off another sneaker on this list – it uses the same black and yellow dunk high as the shoe made for the University of Iowa from the BTTYS pack. A few subtle adjustments are made to the Wu-Tang Dunk High when compared to the shoe that was made for the University of Iowa – most notably, the Wu-Tang symbol features on the heel and tongue of this version of the Dunk. This is another sneaker that is iconic because of its exclusivity – only one pair has surfaced on the internet and that was back in August of 2014. This sneaker is a grail that most of us won't be able to get but it is a grail that should not be overlooked.
Thanks for reading! I hope you found this compilation of the Most Iconic Nike Dunks useful. I had a lot of fun writing this article but would love it if you could share it with close ones if you had fun reading it.