Top Shopify Bots You Need in 2022
Shaba
There are many different types of bots and for someone who is a beginner, it may be hard to decide which bot is right for you! That's why we want to give you the complete breakdown and there is no one you should trust more than one of the oldest sneaker bot marketplaces!
Join our discord to learn more: https://discord.gg/tidal. Nike Shoe Bot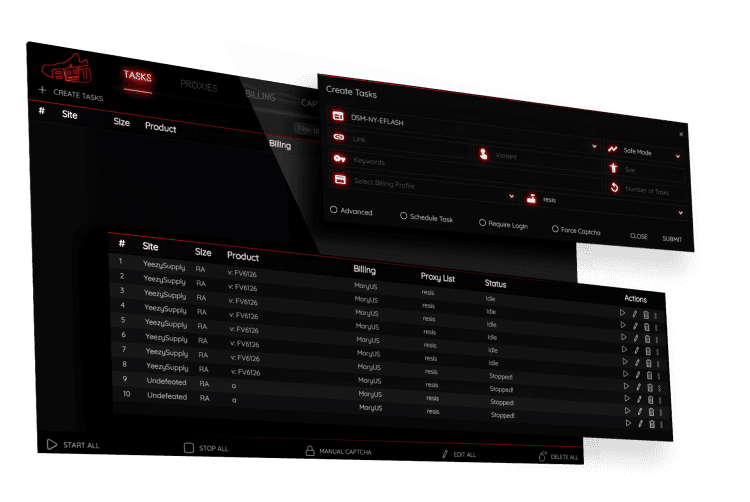 Nike Shoe Bot (NSB) is one of the most popular bots there are! Nike Shoe Bot is not the best Shopify bot on the market, but it is the best overall. NSB is a bot that is always available and is very reasonably priced. One thing you can always count on with NSB is that they will always push updates regularly and try their best to ensure you can cop whatever you are going for! The price of the bot is $500/year and their site list is HUGE! They currently support Yeezy Supply, Adidas, Supreme New York, Foot sites (Footlocker, Eastbay, Champs, Footaction), and over 100+ Shopify Sites. A few popular Shopify sites they support include Kith, DSM for all regions, Palace Skateboards, Undefeated, Bape, ShopNiceKicks, and MANY more! Nike shoe bot is truly a bot that offers the best value for what you are paying for!
AIO Bot (All in One Bot)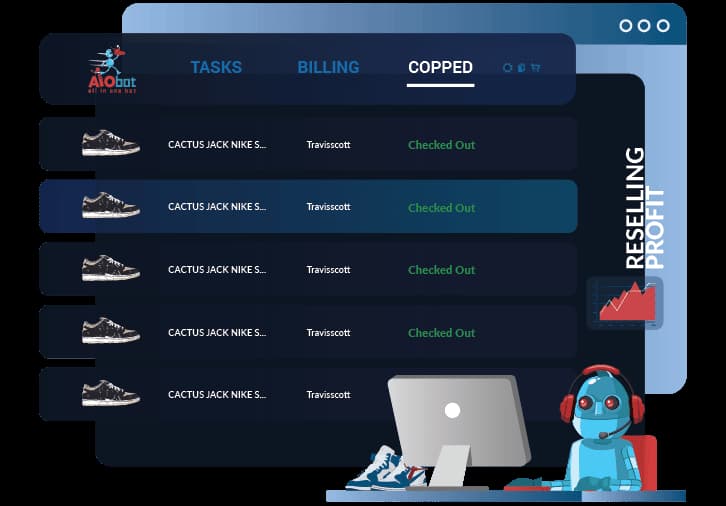 AIO bot is a bot that has been around for a very long time. Over this time, they have built an amazing reputation that people can trust. They are cheaper than NSB while supporting many of the same sites. The price of the AIO bot is $325 and for that price, you get full access to all the sites they support along with access to their discord server for support! One thing people love about AIO bot compared to others is their super simple user interface. They have designed their bot so that anyone can open the software and know what to do! AIO bot has a large site list that includes TONS of Shopify sites, Yeezy Supply, Adidas, Foot sites, Finishline, and JD Sports. If you are a beginner that wants to try out botting then your best two choices are between AIO bot and Nike Shoe bot!
Cybersole

Cybersole is the bot everyone looks up to. Whenever there is a comparison, people always compare that bot to Cybersole because it is just that good! Cybersole is not like the other bots that we have reviewed above. Cybersole is not always in-stock, which means you have to purchase the bot from a third party! Not only do you have to purchase the bot from a third party, but you also have to pay the resell price of the bot. Many top-tier bots are not always in-stock which causes the demand for these bots to go up. When this occurs, their resell price also goes up causing buyers to have to spend more just to get access. There are many sneaker bot marketplaces that you can purchase cybersole from. Our top pick is Tidal marketplace, which is one of the oldest Discord bot marketplaces in the community. They have middlemen waiting for you to open a ticket and help you with your transaction so you never get scammed! Another great place to get Cybersole from is BotBroker. Botbroker allows you to buy different bots safely without a middleman due to their automated system. One downfall to BotBroker is its higher fees compared to other marketplaces. Our last recommendation is to purchase Cybersole through Botmart, which is the oldest and largest discord marketplace in the sneaker community. Cybersole supports a large number of sites as they claim to be a TRUE AIO bot. They currently support all Shopify sites, all Foot sites, all mesh sites ( Size? Footpatrol, JD Sports, and The Hip Store), all Supreme New York regions including in-store signups, Yeezy Supply, Finish Line, and Off Spring! With all of these sites, it makes it obvious as to why the bot typically resells for large amounts.
Trickle Bot

Trickle Bot is the newest shoe bot in this article, but they have a strong dedicated developer team, which is constantly pushing updates to ensure they are a top-tier bot. The bot uses many different bypasses on various Shopify sites to beat others when checking out! They support fewer sites than many of the other bots on this list, but that's because they take more time to dedicate to their smaller site list. This is why their sites are super consistent and destroy almost every drop! Their site list consists of all Shopify sites, Yeezy Supply, Walmart, and Best Buy. One major difference from Trickle compared to the others in this article is that Trickle Bot has a command-line interface (CLI) compared to the others that have a graphical user interface (GUI). Many people love CLI bots while many beginners find it confusing. So if you end up deciding that you want to purchase Trickle then make sure you keep this in mind! Trickle Bot is not a bot thats always in-stock. You have to purchase from a third party marketplace similarly to Cybersole. The only marketplaces that you can purchase Trickle from is Tidal Marketplace and Botmart.
Prism AIO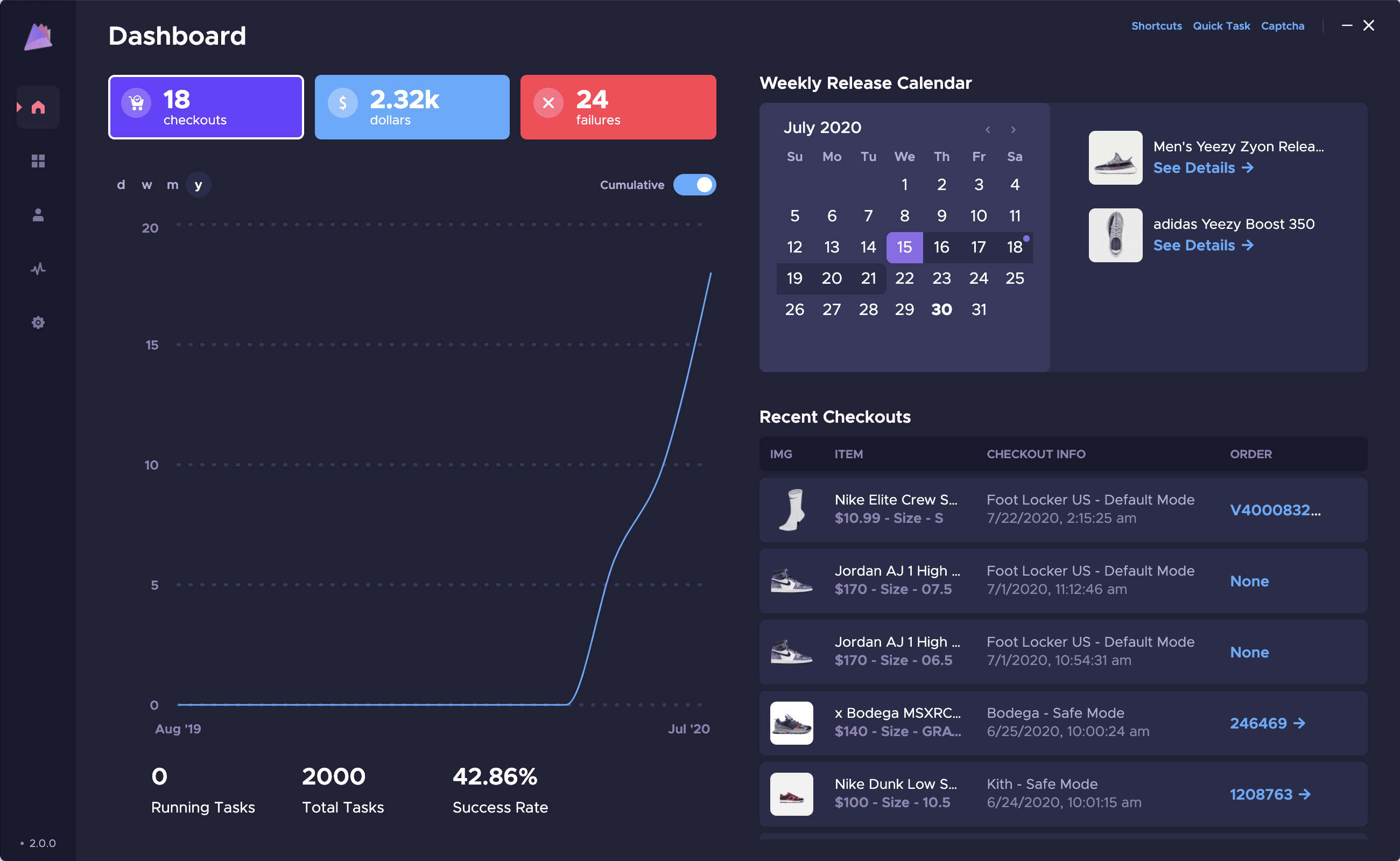 Prism AIO is both a great bot due to its consistent success and its GUI. In my opinion, Prism AIO has both an amazing user interface within their bot along with their custom dashboard. Prism supports many sites and has a very large developer team that regularly pushes updates out! When you open prism, you immediately know where to go when you need something because of the way they had designed it! Not only is the user interface easy to navigate, but their home page shows you all of your analytics from how many checkouts you had, how much money you spent, and how many failed checkouts you had! They even give you a visual representation of when this all occurred with their chart that can be filtered to a specific time! Prism is not a bot that is always available so similarly to Cybersole and Trickle, you have to purchase it from a third-party marketplace. Prism currently supports all Shopify sites, Foot sites, and Yeezy Supply!