What You Should Know About The Card Market
Shaba
The card trading world has blown up since early 2020. There are many different factors to consider why this happened. Was it related to COVID, stimulus checks, or people just being at home more? Possibly. While the market seems to have started to normalize and the bubble has seemed to pop, the trading card market isn't going anywhere. It's a market that has been around since the 1900s and trading cards will continue to be a hot commodity.
There are two main companies out there producing these cards. Topps and Panini. Each company has trademarking rights for different sports, tv shows, collectibles. While you may see Topps rookie cards for NBA vets like Kobe and Lebron, they no longer hold the market for NBA cards. Topps is best known for MLB, Soccer, Garbage Pail Kids, Star Wars, and other TV shows. Panini is most well known for NFL, NBA, UFC, Fortnite, and others. Don't forget about the TCG market and the companies that produce Pokemon, Magic the Gathering, Yugioh, etc.
So where do you purchase these cards? Mainly online or in-store. For sports and TCG cards, there are different products that will release exclusively online and some that will release exclusively in stores. Typically for sports cards, hobby boxes will be released solely online or at your local card shop. These hobby boxes contain exclusive parallels and autographs and have a higher retail price. The retail versions of these products have different parallels and usually won't guarantee autographs. Both Topps and Panini release at various retail locations like Target, Walmart, Barnes & Noble, and even gas stations.
NBA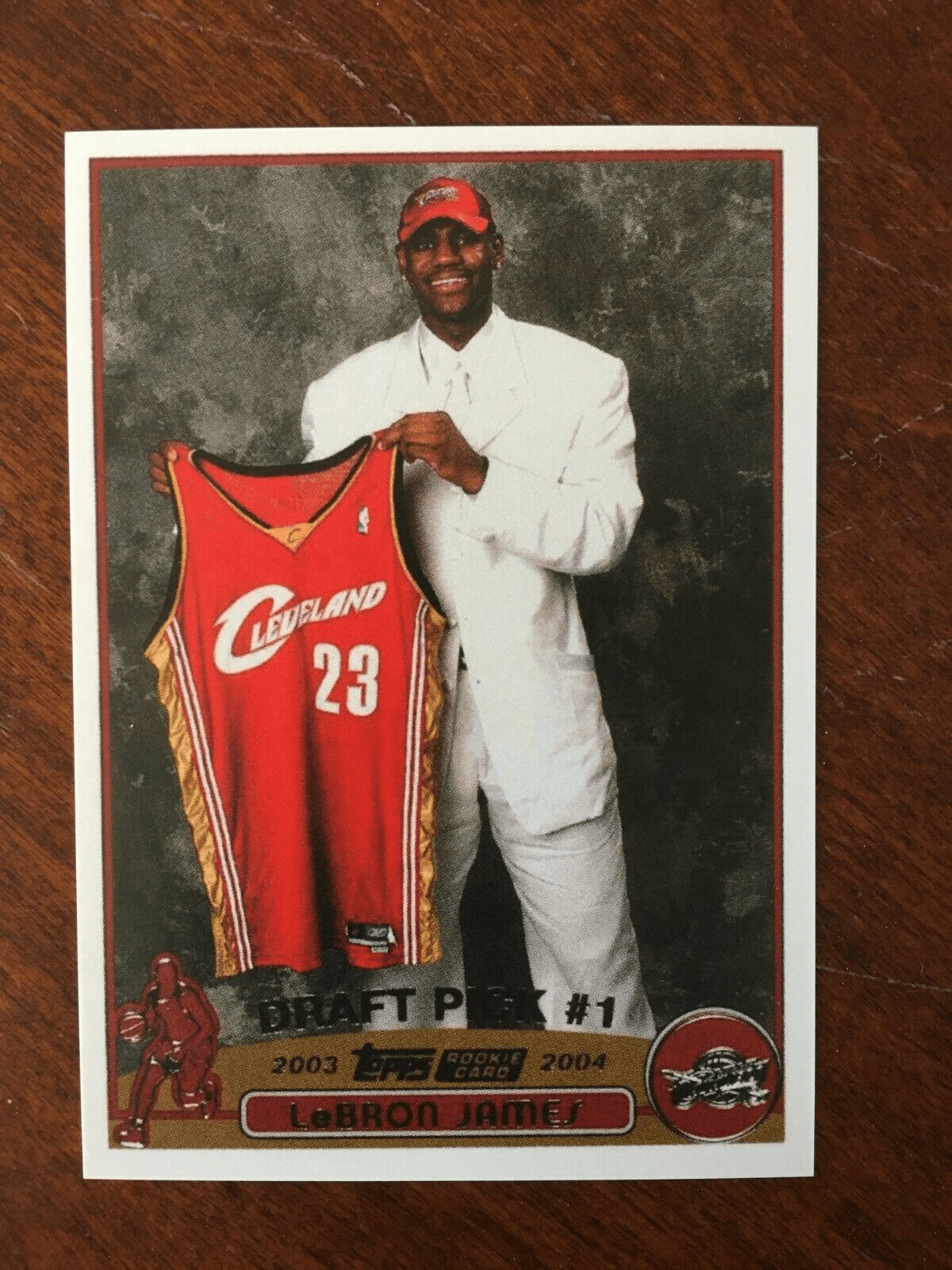 Lebron Topps Rookie Card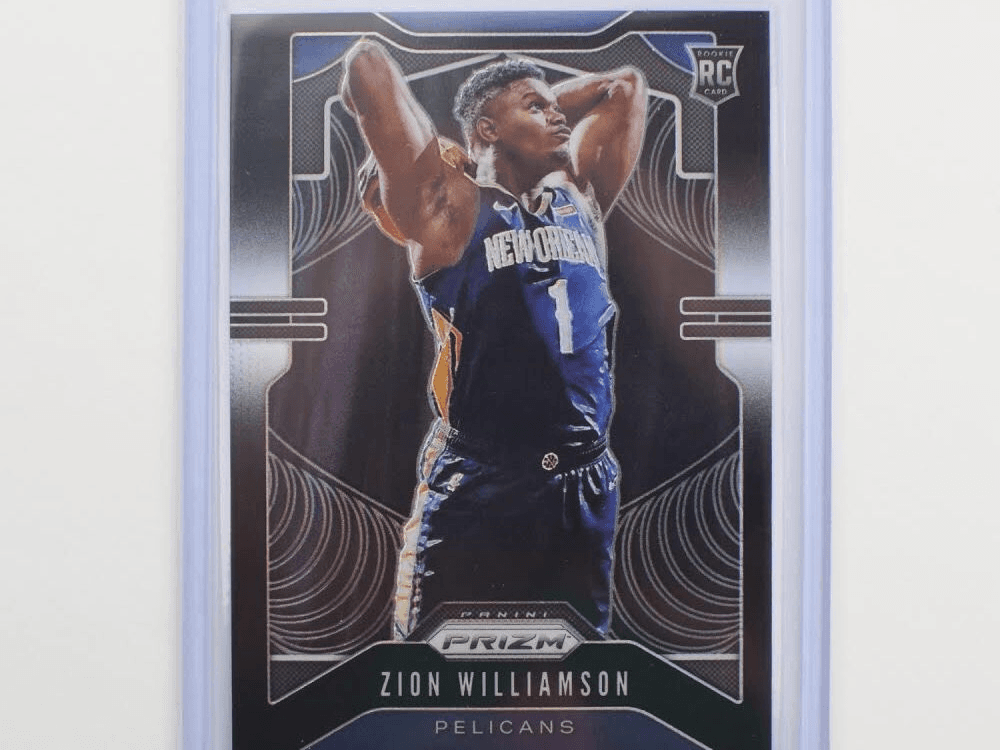 Zion Panini Prizm Rookie Card
Let's talk about the NBA market. It recently exploded in early 2020 and certain cards went up thousands or hundreds of thousands of dollars. For example, Zion Williamson's Prizm PSA 10 got above $1,000 and can now be purchased for around $400. There are various reasons for why the NBA market blew up. One of the main reasons was the super strong rookie class including rookies like Zion Williamson, Ja Morant, Tyler Herro, etc. Collectors jumped at the chance to purchase their rookie cards at a high price point. This is typically normal in the markets, where cards that just come out sell for higher. Another reason that we saw a big jump was that PSA, a card grading company, got so backed up that most collectors didn't have their rookie cards for these big rookies back yet. So, with basic supply and demand, those who did have their rookie cards graded were able to sell them for super high prices.
Now that PSA has been slowly returning more cards, the market is getting more saturated, causing the floor prices for these rookies to decrease back to a more normal value. Collectors have also started to realize that a new rookie like Ja Morant hasn't proven himself like one of the NBA legends, even though Ja's cards may be priced hundreds of dollars more. Another big stimulus to the NBA market, pun intended, were the stimulus checks from COVID. Many collectors pumped the market with this new money they had, causing higher prices. All of these reasons may be the cause of the huge jump in NBA prices. We are finally starting to see normal value prices for these rookies, regardless of how much potential to be legends they may have.
So, with NBA cards, Topps used to control the market until the 2009-2010 season. That's why you'll see rookie cards of Kobe, Lebron, Steph, Harden, etc. in the Topps brand. Since the 2009-10 season, Panini has controlled the market and made the most popular current brands like Prizm, Optic, Select, National Treasures, Immaculate, etc. For rookies from the last ten years, you'll be collecting a rookie card from a Panini brand, rather than Topps. Some collectors even highly value the first Panini card for players like Lebron, Steph, etc.
So, what brand of card should I collect for a NBA rookie? Well, it depends on how much you want to spend. Let's break it down into three different tiers. You have your first tier with the hobby exclusive products like Immaculate, National Treasures, Impeccable. These rookie cards have a chance for what is called a RPA, or rookie patch auto). These RPAs are the cards that can do millions in sales like the recent Luka Doncic and Steph RPAs that sold for $4 million. The middle tier include lower end hobby products or retail products like Prizm, Select, Optic, Noir, etc. Some of the most collected are these Prizm NBA cards. They have been a staple rookie card for the majority of collectors. The lower tier of Panini NBA cards would include brands like Donruss, Elite, and Contenders. These lower tier brands typically will include college jerseys, rather than rookie cards with their first NBA teams jerseys.
So, where do you get these cards? Well, you can get their hobby versions from Panini.com and you can get their retail versions from retailers like Walmart, Target, and Barnes & Noble. The prices vary depending on the specific product but almost all of these products sell out in minutes and as soon as they hit shelves in-store. It's likely to pay resell prices for these products because of how hard they are to get.
You can find more information about the NBA card market in the next article posted on our website. In this article, we'll go more in depth on different brands, how to grade NBA cards, what rookie cards are hot, and more.
NFL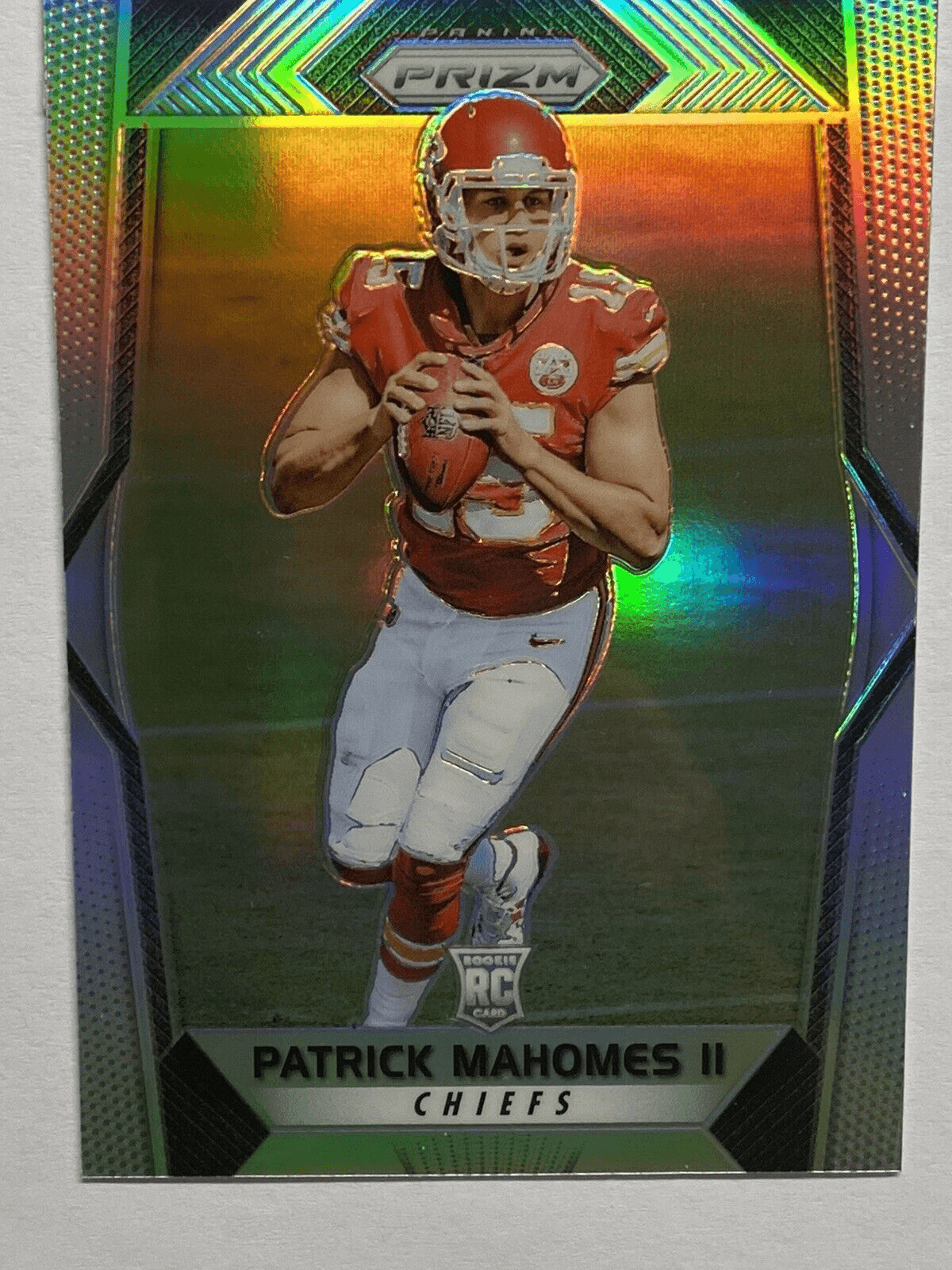 Patrick Mahomes Prizm Rookie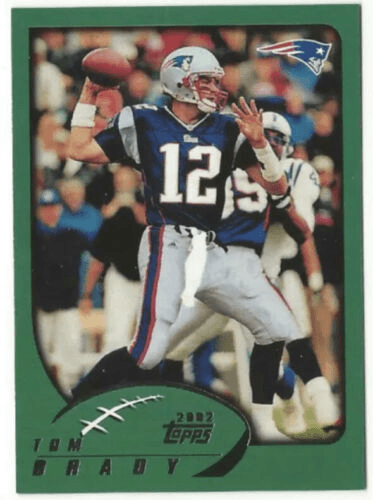 Tom Brady Topps Rookie
Let's talk NFL cards. NFL cards are also controlled by Panini for now. They been the big name for football cards since 2015. Previous to 2005, you'll have rookie cards for players like Tom Brady in the Topps brand. The brands that are popular are almost identical to the NBA brands as well. The top, middle, and lower tiers of value are identical as well. NFL cards are sold in the same retail locations and on Panini's website as well. The value of cards are similar besides what type of players hold value.
For NFL collectors, QBs have the highest value for trading cards. There is a pretty large gap between QBs and players of different positions like wide receivers. Typically, QBs have the most value, then wide receivers, rushers, defensive players.
For more information on NFL trading cards, refer to our article on our website. It will have more in depth info on various NFL card related topics.
Soccer Cards
Messi Rookie Sticker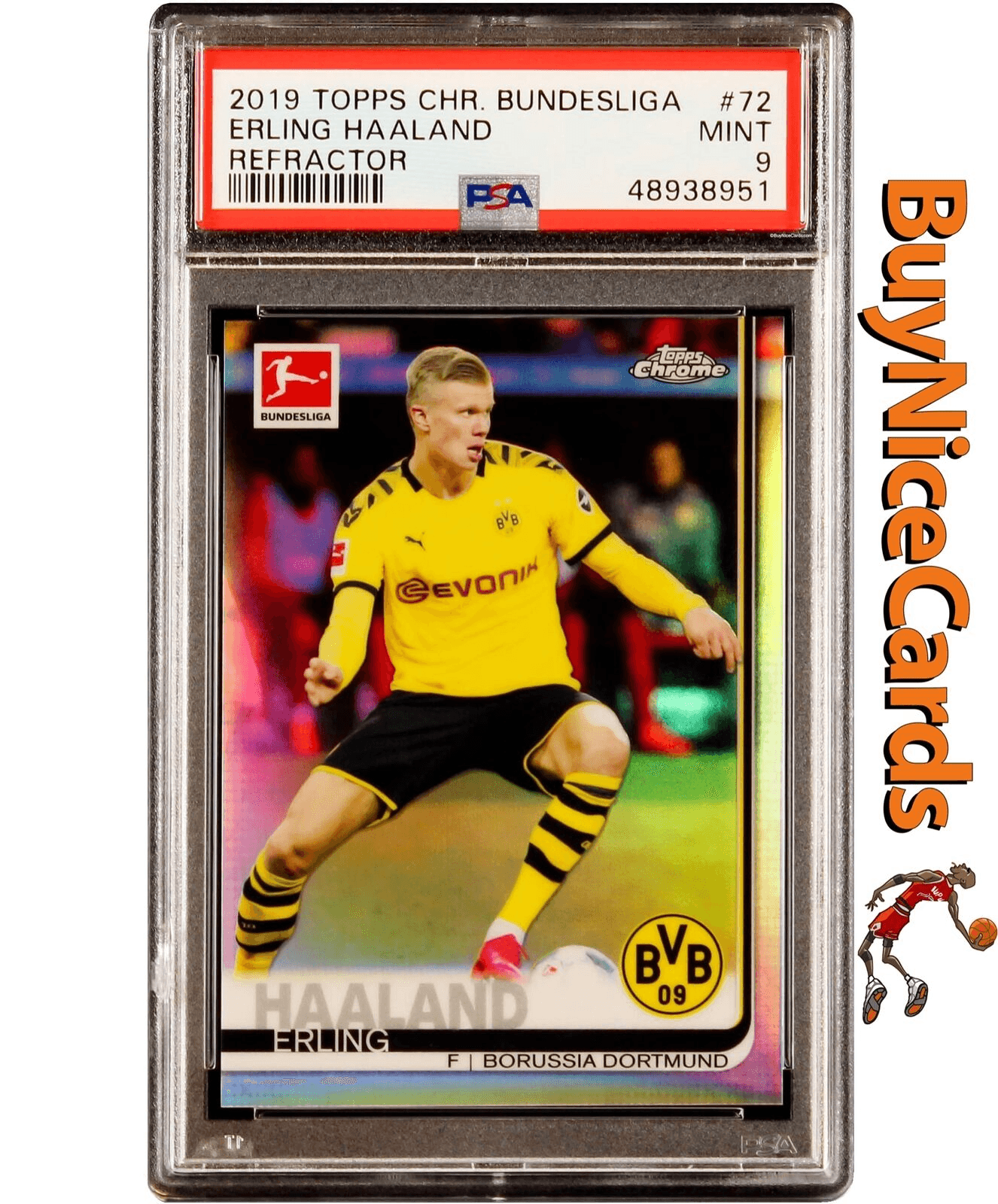 Erling Haaland Rookie Card
Soccer cards are pretty new as of the last few years. The real rookie "cards" for most soccer legends are actually stickers. These stickers are what seem to hold the most value for rookies until more recently, where Topps and Panini have started to do physical cards. In the soccer trading card world, Panini and Topps control the majority of the markets but they own rights to different leagues. Panini owns rights to the Premier League, World Cup, the Euros, La Liga, and Serie A. Topps owns rights to Bundesliga, UEFA Champion's League, and the Europa League. Although stickers are still popular for even newer rookies, rookie cards are starting to become the norm. Depending on the rookie card you are searching for what player, their rookie card may either be from the league they are in or for the World Cup or UEFA.
For example, a player like Jadon Sancho has a rookie in Topps Chrome UEFA and Topps Chrome Bundesliga, but his true rookie is the UEFA one. Erling Haaland has one of his true rookies in Bundesliga but also rookie cards in Topps Chrome UEFA Sapphire. A legend like Messi, Ronaldo, Maradona, etc. will have rookie stickers as their true rookie. Overall, Topps usually has a higher value rookie card than a Panini rookie. The overall card market for soccer has been trending up as it's the world's largest sport and has the largest fan base. The fact that cards are new, also add to the collectible side for the sport.
For more information on soccer trading cards, checkout our soccer trading card article on our website.
Baseball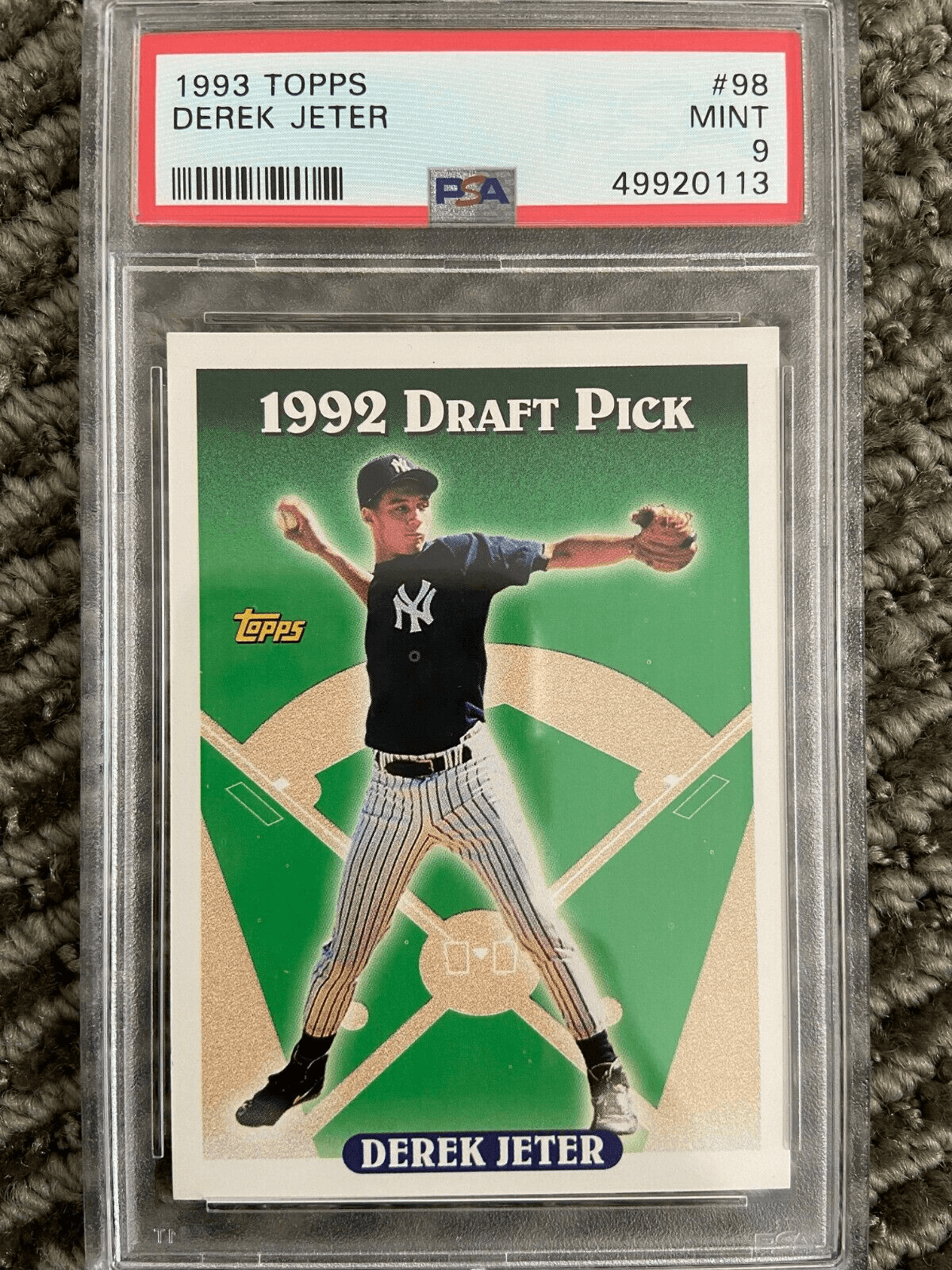 Derek Jeter Topps Rookie
Baseball cards are owned by Topps. They have trademarking rights and have various brands that release like Topps Chrome, Bowman, Stadium Club, Heritage, etc. Panini also releases baseball cards, but they don't have trademarking rights and cannot put team names on the cards. Topps rookies are the way to go for baseball.
Collecting baseball cards are a little different than other sports because you have their draft, 1st, and rookie card. Because most players won't be called up to the majors, the player may have multiple cards between their draft date and their call up, when they will get their rookie card. Because of this, the Bowman Draft and Bowman 1st cards are typically more valuable than a rookie logo card. You may have a hot rookie like Bo Bichette who has a 2016 Bowman 1st card but a 2020 Topps Chrome rookie card. You may have a "rookie card" for Bo Bichette in 2020 from Panini, but it will not be as valuable as Topps because of the trademarking rights Topps has. Bowman Hobby will typically have the very first 1st card.
As far as collecting goes, typically you'll want to get Bowman 1st cards before the player you think will do well in the majors is called up. When a player gets called up, typically their value shoots up in hopes that they will continue to play well in the majors.Checkout our other articles for more information on MLB cards.
Hockey
Hockey is primarily run by Topps as well. Some of the most popular Topps brands for Hockey cards are Upper Deck and O-Pee-Chee. These cards are released online and in stores like Walmart, Target, etc. Typically, the Young Guns cards are the rookie card chase. Panini does have some cards they release like Obsidian or Prizm, but these cards do not have as much value.
Gretzky O-Pee-Chee Rookie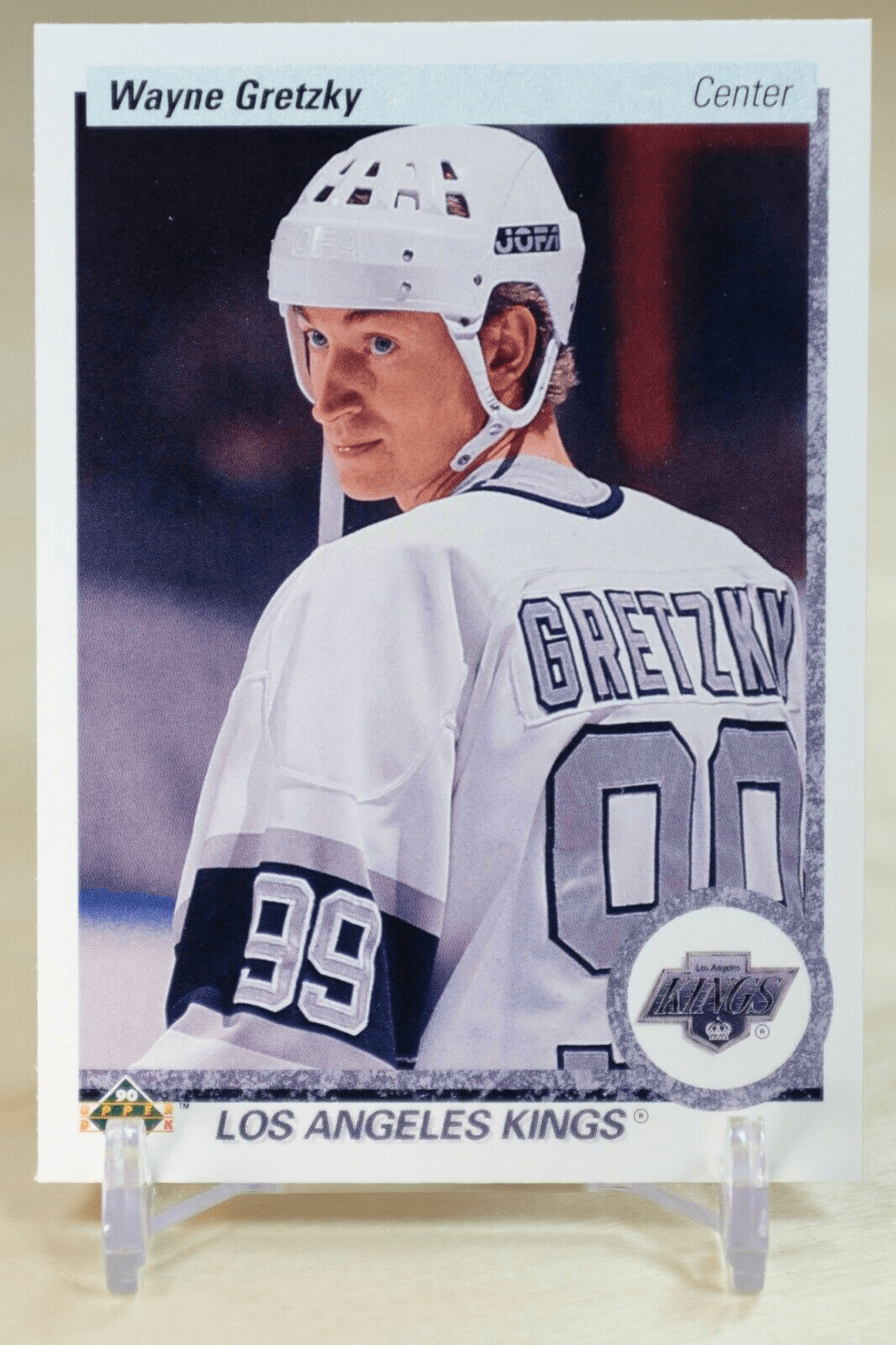 Gretzky Upper Deck Card
Golf
Tiger Woods Topps Rookie
Golf is another card market that is owned by Topps. Their Upper Deck cards are typically the most valuable. For example, Tiger Woods 2001 Upper Deck rookie card. These cards are released typically via your local card shop or Topps.com.
Tennis
Serena Williams Topps Rookie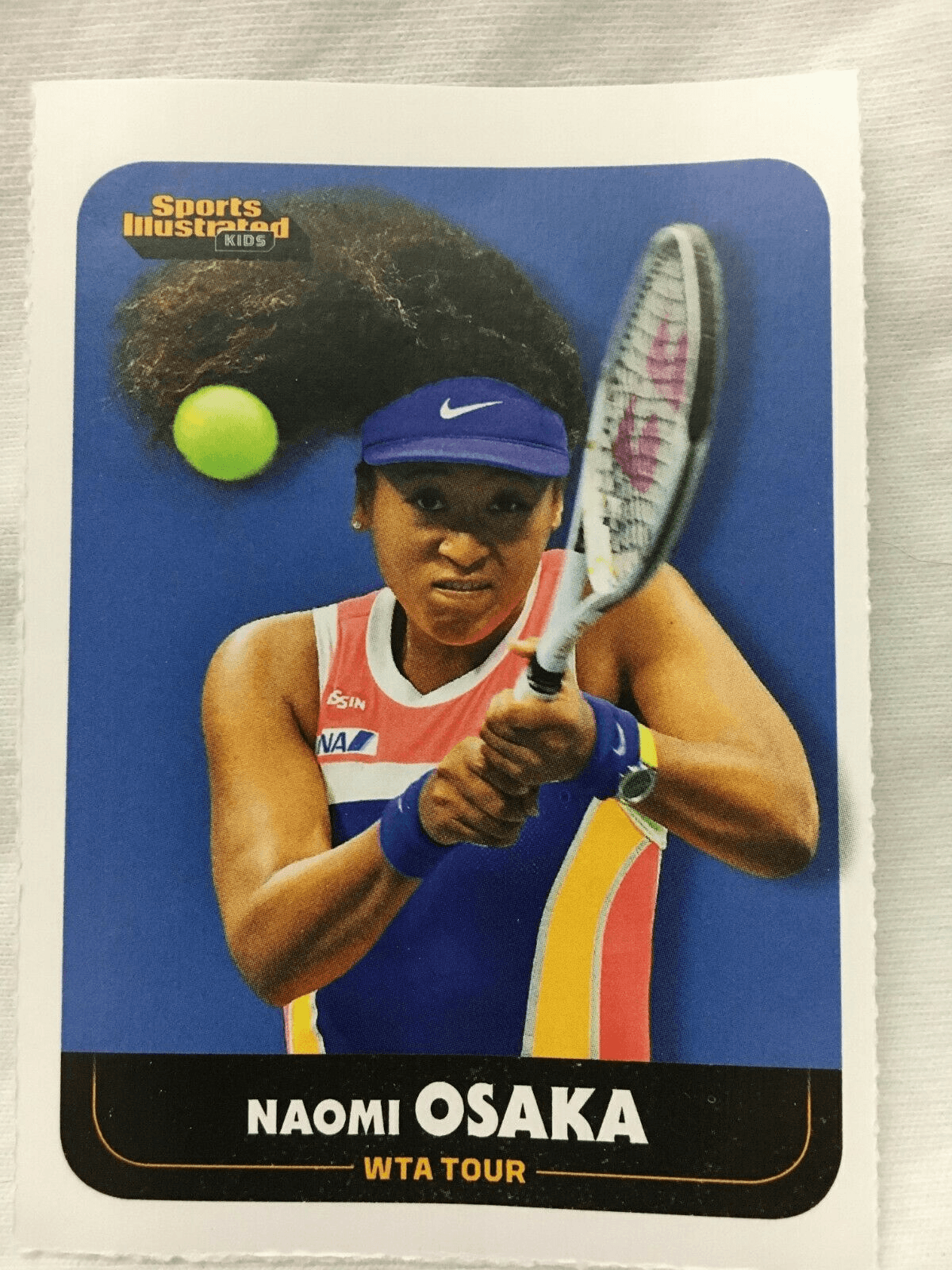 Naomi Osaka Sports Illustrated
Tennis cards are primarily Topps or Net Pro. For example, Naomi Osaka has her rookie card from Topps 2018 and Serena Williams has her rookie card from the 2003 Net Pro set. Some rookie cards are also found in Sports Illustrated magazines as inserts.
TCG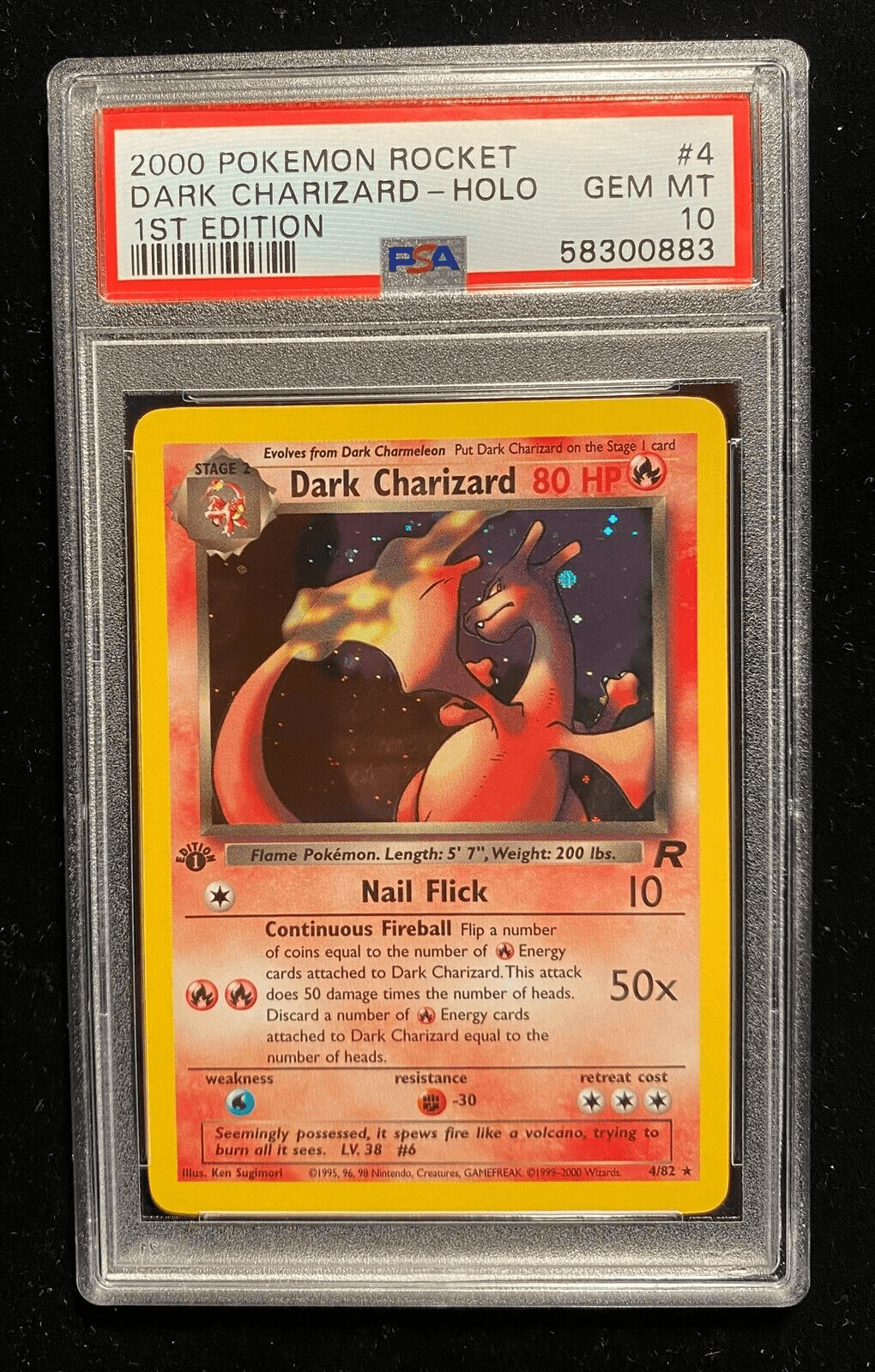 There are various different TCG that have been popular recently. These include Pokemon, Yugioh, Magic the Gathering, and Digimon. Some new TCG that is growing in popularity are Flesh and Blood and MetaZoo. The trends of these products have blown up with sports cards. This could also be influenced by the stimulus checks and also various celebrities who have gotten into the hobby. Most of these TCG products are released through retail locations like Walmart, Target, Barnes & Noble, and others. The are similar to Panini and Topps where they have some products that release mainly via card stores or their own websites. These typically include the booster boxes or other products that include promo cards.
With all TCGs, the 1st edition boxes are going to hold the most value over time. These cards have the 1st edition stamps and are some of collector's favorites. Regardless of the company, these 1st edition booster boxes make great holds. As newer TCG comes out, it's not a bad idea to hold some 1st edition boxes in hopes that the product is well liked by collectors.
Card Grading
Another big thing that you should know about the card market is what it means to grade your cards. Grading cards can increase potential value of the card by 5-10X, or even more. There are many different grading companies out there but the most popular are PSA and BGS. There are some newer companies like HGA, CGC, SGC, etc. but they do not have the value that PSA has.
So, how do you know if you should grade your cards? There are different things that you should check. Grading companies will check the cards corners, edges, centering, and surface for any flaws. For a perfect 10 grade, you need a flawless card. When these companies like Panini and Topps release cards, there are different defects that can happen in the printing process. That is why these cards that are a 10-grade hold so much value. There are different pre-graders who send cards in bulk to these grading companies. Most of them will review and clean your cards for you. This is super helpful for you if you are new to cards. They can help prevent you from sending in cards that will not grade well and save you money.
There are some different things you should consider before grading your cards. It can take a few months for most of these companies to return your cards, unless you are using an expediated service which costs more. You should consider if you think your player will still have hype when you get your card back. It's also important to have your cards back from grading in season. During the off-season, cards typically go down in value. While the card market can fluctuate frequently, only send cards that you are confident will retain good value by the time you get them back.
For more information on card grading, checkout our card grading article on our website.